Analysis Tegile has announced the first mainstream multi-tiered flash array in the storage industry. What does it do and how does it do it?
Tegile has a line of two-tiered hybrid flash and disk drive arrays, and now has a two-tiered all-flash array. Think of the updated IntelliFlash HD as a normal high-performance Tegile all-flash array, like its 2U T4700 with 88TB of raw fast flash capacity, hooked up to an IntelliFlash HD array with many TBs of raw slow flash.
NVMe and SAS SSDs
The updated IntelliFlash HD can have a tier of fast access NVMe flash and a separate tier of SAS SSD flash which is slower to access and less expensive. All-SAS configurations are still available by the way.
In the mixed NVMe/SAS systems our understanding is that 3.84TB or 7.68TB HGST Ultrastar SS200 SAS-connected SSDs are used in this capacity tier, with 3.84TB or 7.68TB HGST Ultrastar SN200 NVMe SSDs used in the faster performance tier.
How does their performance compare?
|   | SN200 NVMe | SS200 SAS |
| --- | --- | --- |
| Read/Write IOPS | 835,000/75,000 | 250,000/37,000 |
| Sequential Read/Write Bandwidth MBps | 3,300/2,100 | 1,800/1,000 |
| Average Read/Write Latency | 20µs | 100μs |
The NVMe tier can read data more than three times faster, write it two times faster, and react five times faster (latency) than the SAS flash tier.
Product models
Tegile's IntelliFlash HD was originally announced in August 2015 as an OEM'd InfiniFlash JBOF (Just a Bunch of Flash drives) from the then-independent SanDisk, which was a Tegile investor. WD then bought SanDisk.
Back then the IntelliFlash OS supported snapshots, clones, thin provisioning, inline deduplication and compression. It had VMware integration via SRM, VAAI, VASA, and VVOLs and provided unified block (FC, iSCSI) and file (NFS, CIFS/SMB3) access. The product could replicate data to Tegile's then-hybrid arrays. Tegile now has a line of all-flash arrays as well.
The updated IntelliFlash HD system has two components: a 2U base chassis controller and one or two 4U expansion capacity enclosures. These contain up to 72 SAS SSDs each. The base chassis has 24 drives: all SAS SSDs or four NVMe drives and 20 SAS SSDs.
Tegile says the flash media is dual-ported and encryption is supported.
In November 2016 the IntelliFLash HD line had four T10KHD models – the 4-50, 4-150, 8-100 and 8-300. Now there are six products:
HD2040

-100 – 92.TB in 2U using 3.84TB NVMe and SAS drives
-400 – 369TB in 6U with 72 x 3.84TB SAS SSD expansion shelf
-700 – 654TB in 10U with 2 x (72 x 3.84TB SAS SSD) expansion shelves

HD2080

-200 – 184TB in 2U with 24 x 7.68 drives (4 x NV+Me + 20 x SAS)
-800 – 737TB in 6U with 72 x 7.68TB SAS SSD expansion shelf
-1400 – 1290TB in 10U with 2 x (72 x 7.68TB SAS SSD) expansion shelves
The HD2080s have twice the capacity of the equivalent physical size 2040 product.
Multi-tiering is managed by IntelliFlash OS v3.7 software, which offers:
IO prioritisation by application
Object cloning for large-scale virtualised and container deployments
Data access virtualisation for mobility of datasets between volumes, file systems and storage pools
As before, the OS provides block (FC, iSCSI) and file (NFS, CIFS/SMB3) access that can be run concurrently. This OS runs all of Tegile's arrays, the all-flash and hybrid flash/disk ones as well as the IntelliFlash HD.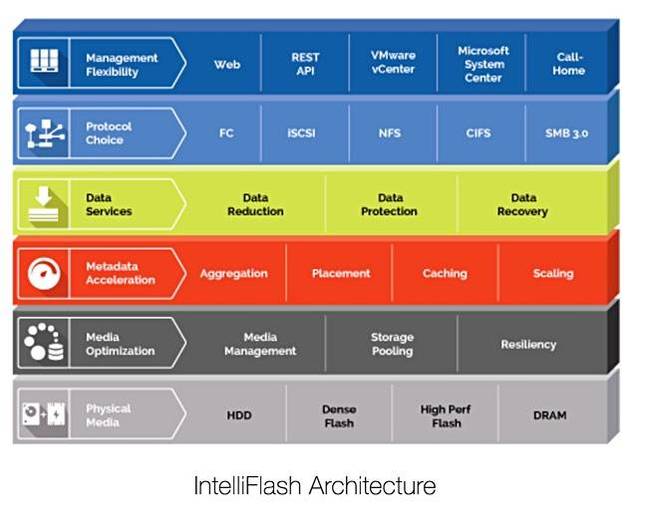 Tegile says it is the only storage provider that combines multiple types of storage media into a single volume.
It has data placement capabilities for the hybrid flash/disk IntelliFlash arrays, which place data on the appropriate fast flash or slow disk tier in realtime. That means the data placement code can handle fast and slow flash tiers as well with suitable tweaking.
Tegile says: "IntelliFlash understands the inherent characteristics of different storage media and intelligently manages the placement of data to deliver memory-like performance (speed and latency) with the best possible economics."
Workloads
Tegile says the IntelliFlash HD "is the only platform that delivers the performance and economics your organization needs to run an all-flash data centre" because it provides both fast-access and (slower) high-capacity flash in one system. Think SQL databases and analytics if you will.
It claims that "with IntelliFlash HD, you can consolidate all your workloads and all of your data onto a single array to achieve the best balance of performance and economics at scale."
That rather depends on the amount of performance tier flash available and applications tolerance for scale-out architectures. For example, a 20PB SQL database, to envisage a corner case, would fit in the slower SAS tier of a single IntelliFlash HD but not in the smaller NVMe tier.
Talking about IntelliFlash HD with a single flash tier, Rob Commins, Tegile's VP for marketing, said: "My favorite use case is United Center. They use it for [an] athlete statistics database hooked to video library. They produce video during basketball and hockey games based on player performance."
There are no dual-tier IntelliFlash case studies yet.
We think Tegile's data centre workload consolidation onto IntelliFlash HD story could be true for smaller data centre shops with relatively simple polarised and bifurcated workloads. Large shops with more varied environments may find stuffing everything on an IntelliFlash system a bit of a stretch.
Comment
With 5:1 data reduction Tegile says the effective capacity of IntelliFlash HD is up to 3PB per 6U chassis and 5PB in 10U. That suggests 2PB from one 4U chassis and 1PB from the 2U enclosure.
We would suggest that, with incoming QLC (Quad-Level Cell or 4bits/cell) flash in the capacity tier, that could rise to a possible 4PB in one 4U chassis, 9PB from a 10U set of three chassis, and 27PB from a rack of three IntelliFlash systems. IntelliFlash is both a scale-up and scale-out system.
We can also expect Tegile's all-flash arrays to get an NVMe drive makeover and then adopt NVMe over Fabrics as well.
More NVMe drives are coming. Commins told us: "Later this year we will transition to a configuration of all-NVMe base chassis plus SAS Expansion shelves with the same drive capacities."
That may depend upon a controller CPU upgrade to Skylake technology to handle the increased IO load. It will enable much larger tier-1 application data sets to reside in the fast NVMe flash tier; up to 184TB from the current 31TB maximum in the IntelliFlash HD-2080-1400.
Pure Storage has separated its performance data and unstructured data all-flash array systems with FlashArray and FlashBlade. Tegile is combining them with IntelliFlash HD (NVMe+SAS) while still having performance-focussed IntelliFlash and capacity-focussed all-SAS IntelliFlash HD.
Once the full NVMe base chassis IntelliFlash HD arrives then a comparison with Pure's FlashBlade will become more interesting. ®