Viking storms storage monastery wielding 50TB SAS SSD
Behold my mighty 5PB racks and tremble
---
Viking Technology is shipping a 50TB SAS SSD. Yes, you read that right.
The UHC-Silo SSD is claimed to be the highest-capacity drive of its kind shipping today, and has a 3.5-inch form factor that comes in two capacity points – 25 and 50TB.
It uses planar SK Hynix MLC (2 bits/cell) flash and not the 3D TLC (3bits/cell) NAND chips with higher capacities available today. There is a dual-port SAS 2.x 6Gbps interface and its 4KB read/write IOPS rating is up to 60,000/15,000. Not that fast.
The sequential (256KB) read/write bandwidth is up to 500/350 MBps – not particularly impressive in these NVMe interface days where GBps ratings are common, but this is a capacity-focussed drive.
The endurance is one drive write per day for five years.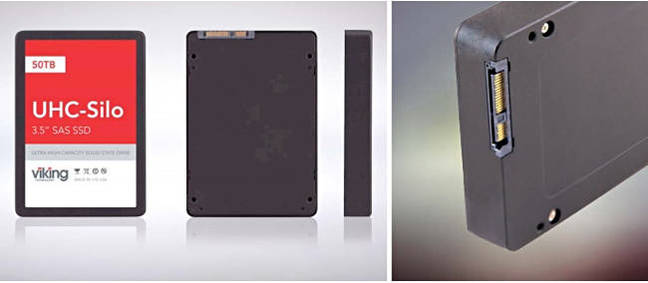 Idle power consumption is under 10W and active power usage 16W. Get enough of these and, compared to equivalent disk-drive storage, Viking says you can look to save up to 80 per cent on power, space, and cooling costs, and talks of 5PB racks when using the drives.
Tinh Ngo, business development director at Viking Technology, said customers buying this drive will be looking for a balance between capacity, power, and performance. Viking hopes the product will find a home in markets such as cloud computing, big data, external storage systems, digital imaging and media, technical applications and cold storage.
We wonder about Viking potentially bringing out a 100TB SSD using 3D TLC NAND in the future, and our eyes glaze over when we think of QLC NAND (4bits/cell) and 130TB SSDs in cold storage applications.
There are more UHC-Silo spec details here and a product brief here (PDF). No pricing details are available as yet. ®