Server vendors board the Xeon SP party bus
Who'll get all the hotties? Who'll mope in the corner thinking about EPYC?
---
As expected when Intel processors power virtually all x86-class servers, the vendors all hopped on the Skylake Xeon SP party bus.
They hope to ride the server update into the market better than each other, and get every last upgrade penny they can pocket.
Cray
Cray's XC50 supercomputers and CS line of cluster supercomputers will be available with Xeon Scalable Processors and should run their jobs faster than before.
Cray XC50 supercomputers with Xeon SPs are available now. The Cray CS500 cluster supercomputers and CS-Storm accelerated cluster supercomputers with Xeon SP will be available in the third quarter.
Fujitsu
Fujitsu is announcing its new, refreshed range of dual and quad-socket PRIMERGY servers and octo-socket PRIMEQUEST business critical servers using Xeon SPs.
The line includes the multi-node and modular PRIMERGY CX400 M4, which has blade servers inside a rack chassis.
Technical features include DDR4 memory modules and up to 6TB capacity in quad-socket PRIMERGY servers, flexible configuration options to support mix-and-match of storage drive bays and graphics processing units (GPUs) to accelerate high-performance computing, hyperscale, and enterprise data centre workloads.
Fujitsu says its PRIMEQUEST server pushes the performance envelope of SAP HANA up to 12TB.
These server lines are available worldwide from Fujitsu and its distribution partners. Prices vary by region, model and configuration.
Gigabyte
Taipei-based Gigabyte's Xeon SP line will initially offer four new 1U-form factor and four new 2U-form factor systems, as well as two motherboard SKUs that support the Scalable series, and have a range of options for storage and expansion slots.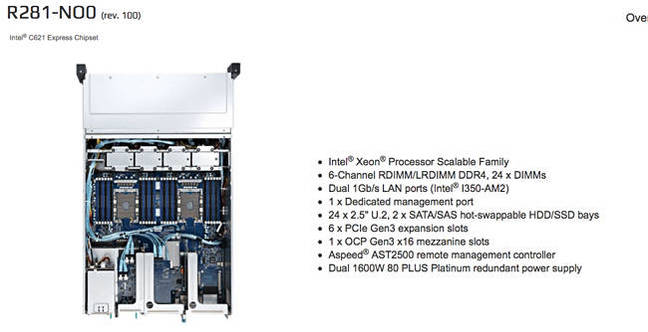 Gigabyte R281 rack server
Check them out here. No specific Xeon SP processors are detailed.
HPE
HPE's social media whizz, Calvin Zito, has two videos available showing HPE product people talking about Xeon SP use in the DL380 and DL560 ProLiant gen 10 server line. Gen 10 signifies Xeon SP use.
IBM
IBM? Launching Xeon SP servers? Didn't it sell off its x86 server line to Lenovo way back when? Yes, it did, but this time around the x86 block it's launching bare metal Xeon SP servers in the IBM Cloud. They'll use Xeon Silver 4110 or Xeon Gold 5120 processors, Big Blue burbles, for faster insights from big data workloads.
These join its POWER servers in the cloud, and will be available in IBM Cloud data centres in the US, UK, Germany and Australia from Q3 2017. We don't know who is building these servers for IBM.
Lenovo
Lenovo blade, rack, tower, dense, mission-critical and hyperscale servers. The SN550 and SN850 blades support Xeon SP Platinum CPUs as do the SR530, 550, 630 and 650 rack servers. So far its website doesn't specify Xeon SP support for the SR570 and SR590 rack servers
The ST550 tower and SD530 dense servers support Xeon SP Platinums but it doesn't say whether the liquid-cooled SD650 does.
Both mission-critical servers, SR850 and SR950, fly the Xeon SP Platinum colours.
Lenovo has announced 42 new world-record benchmarks for its ThinkSystem server portfolio integrated with Xeon SP processors.
The TPC-E benchmark uses a database to model a brokerage firm with customers who generate online transactions related to trades, account inquiries, and market research.
The TPC Benchmark H (TPC-H) is a decision support benchmark for systems looking at large volumes of data, execute complex queries and returning answers.
Lenovo said it is:
The first to break the $100/transaction per second per E benchmark (tpsE) price barrier on TPC-E, with $93.48 USD/tpsE, 16 per cent lower than the previous record of $111.65/tpsE with the SR650 server
Achieved the highest TPC-E performance for any 2-socket system with 6,598.36 tpsE2 on the SR650
Achieved a TPC-H world record on the SR950 with 1,336,109.6 QphH @10,000GB (queries per hour H) at $0.92/QphH @10,000GB8
Delivered 26 STAC-M3 world-record benchmarks on the ThinkSystem SR950 and ThinkSystem SR650
Set world records in SPECvirt_sc20135 in 2-socket servers, and SPECjbb20156 benchmarks on 1, 2, 4, and 8-socket servers
The STAC-M3 benchmarks measure workloads in time-series analytics.
Specific Xeon SP CPU models used in these servers are not yet listed.
Supermicro
White box server king Supermicro has a new X11 generation server and storage motherboard and chassis line optimised for the Xeon SPs.
There are X11 dual-processor (DP) and uniprocessor (UP) Serverboards and SuperWorkstation boards, with single, dual and quad-socket motherboards. Xeon SPs up to the Platinum models with 28 cores are supported.
Supermicro claims it offers the most extensive range of computing products with this Xeon SP line for data centre, enterprise, cloud, HPC, Hadoop/Big Data, AI/deep learning, storage, and embedded environments.

Charles Liang, Supermicro president and CEO, said: "Our Server Building Block Solutions are designed to not only take full advantage of Xeon Scalable Processors' new features such as three UPI, faster DIMMs and more core count per socket, but also fully support NVMe through unique non-blocking architectures that achieve the best data bandwidth and IOPS."
Find out more here.
And finally
Hyperconverged infrastructure appliance software supplier Maxta says it has immediate support for any server designed for Xeon SP CPUs.
Benchmark testing of a Maxta HCI cluster configured with Xeon Platinum 8168 processors and Intel data centre SSDs with NVMe delivered a storage performance gain of 120 per cent in IOPS, with less than half the storage latency compared to previous Xeon technology.
Using QuickAssist Technology to offload and accelerate real-time data compression operations, the platform offered a further performance gain of 25 per cent and a 13 per cent decrease in latency. Nice.
There's no need, it purrs, to wait months for hardware-based hyperconvergence products to integrate Xeon SP technology. ®
Similar topics
Narrower topics