Ransomware helped backup and security firm Barracuda to a solid first fiscal 2018 quarter, with revenues and subscribers both growing.
Barracuda grew revenues 8.7 per cent year-on-year to $94.2m although profits were almost flat at $2.7m compared to $2.8m a year ago. Revenue growth rate stepped up a bit from the prior quarter's $89.3m as the chart shows, comfortably beating its own estimate of $91m for the quarter.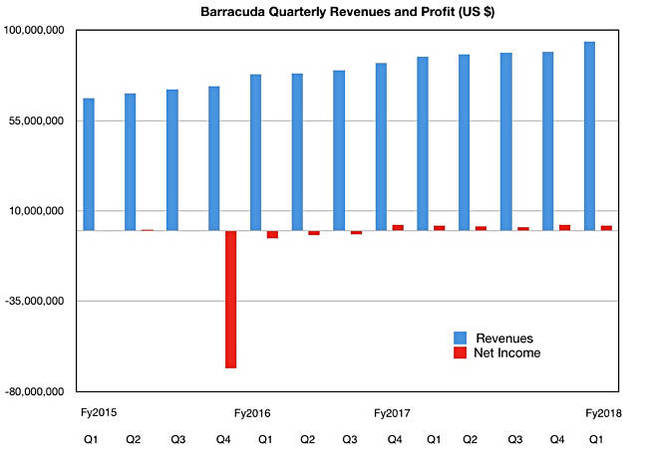 Barracuda's profitability (GAAP net income), although regular, is fairly low at 3 per cent, with the prior quarter at 3.5 per cent and the one before that 2 percent, and 2.7 per cent before that. Business life in a backup and security market moving to the cloud and shifting subscriptions away from perpetual licences and appliances is not a bed of roses.
Subscription revenue grew to $73.9m, up 13 per cent from $65.3m a year ago, representing 78 per cent of total revenue, while appliance revenue shrank to $20.3m; it was $21.3m in the same quarter last year.
The number of active subscribers grew approximately 17 per cent to over 335,000 by the end of the quarter. The renewal rate was 93 per cent on an annualised basis.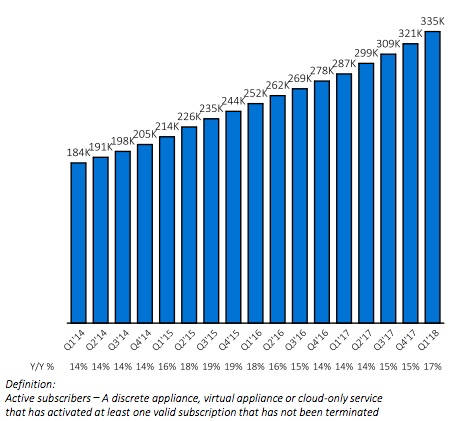 Barracuda subscriber trends
William Blair Analyst Jason Ader writes: "On the public cloud side, Barracuda now has over 1,000 customers and saw bookings more than double year-over-year (an acceleration from last quarter), driven by new customer additions in both the mid-market and enterprise segments. In email, Essentials added 1,000 new customers, more than 50 per cent of which were net new to Barracuda.
"Barracuda delivered a sixth consecutive quarter of billings and revenue outperformance, with core product billings up 20 per cent year-over-year driven by continued adoption of cloud-based solutions for email security and management (specifically Barracuda Essentials for Office 365), healthy demand for next-generation firewalls and web application firewalls, and solid organic billings growth in data protection."
We note that, geographically, Barracuda is US-centric, with 70 per cent of its revenues coming from Trump country. The EMEA counts for 18 per cent, with Asia-Pacific being a small 6 per cent and the rest of the Americas being 6 per cent also. That looks like a huge opportunity to grow sales, with Canada and South America being in its US backyard so to speak, and, together with Asia-Pac, looking like untapped markets.
The outlook for next quarter is revenues of $92.86m, a 6 per cent rise annually.
Ader noted an unexpected drop in gross margin, which was attributed to "a mix shift to lower end appliances and investment in cloud infrastructure. Management expects this pressure to persist for the next couple of quarters."
Ransomware attacks are creating demand for Barracuda's security products and it's also riding the Office 365 growth curve with protection offerings. Despite this, Ader says: "We still see too many variables in Barracuda's business (the latest being gross margin) to recommend the stock." ®