This article is more than 1 year old
Juno beams back first closeups of Jupiter's unsightly red acne
Shrinking spot looks like the Eye of Sauron
NASA has released the first closeup images of Jupiter's Great Red Spot, the massive storm system that has been swirling on its surface for over 180 years.
On July 10, the Juno space probe swooped within 5,600 miles (9,010 kilometers) of Jupiter's surface, directly over the storm system. Now the pictures are back and the space agency has open sourced them so that astroboffins everywhere can dig into one of the great wonders of the Solar System.
"For hundreds of years scientists have been observing, wondering and theorizing about Jupiter's Great Red Spot," said Scott Bolton, Juno principal investigator from the Southwest Research Institute in San Antonio.
"Now we have the best pictures ever of this iconic storm. It will take us some time to analyze all the data from not only JunoCam, but Juno's eight science instruments, to shed some new light on the past, present and future of the Great Red Spot."
The images come from JunoCam, capable of 15 km/pixel resolution on this type of orbit. Juno's other sensors will also be probing under the Red Spot to try to determine what powers such an awesome weather system. With data rates back to Earth hovering at around 325 bits per second, it's early days on our viewing of the phenomenon.
The Great Red Spot is a 10,000-mile (16,000-kilometer)-wide storm, 1.3 times as wide as Earth. It has shrunk considerably over the past century and by 2040 is predicted to move from an oval to a circular storm – still a massive feature of the planet.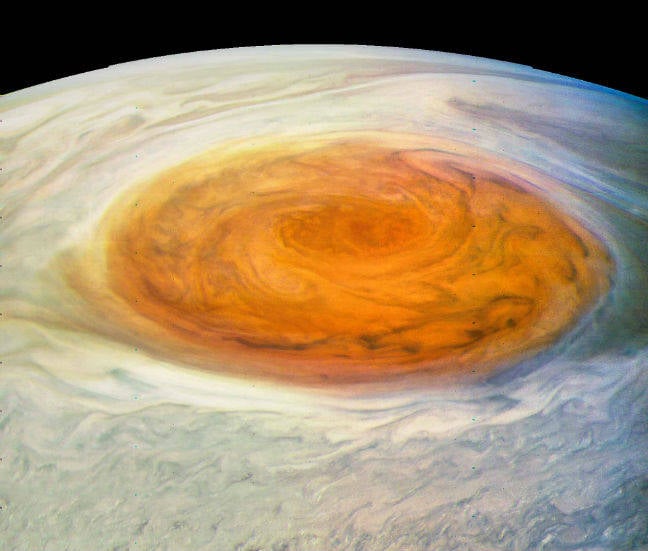 NASA wants the public to analyze the images too and is putting them online as fast as possible – although anything showing a large black monolith will presumably be held back for a bit. It has also been asking amateur astronomers to send in ground-based observations of Jupiter for comparison.
The first claimed sighting of the Great Red Spot came from British genius Robert Hooke in 1664, however it's now thought that his observations may have been mistaken. Better optics have ensured that the storm has been continuously monitored since 1830, although it has changed significantly during that time.
More photographs are still coming in, and the JunoCam pictures and other sensor readings on the damaged – but still operational – probe could give fascinating insights into Jovian acne and how long future generations will see it. ®