This article is more than 1 year old
Alan Turing Institute bags a Cray Urika-GX to crunch numbers for next-gen tech boffinry
But can it run Crysis?
Cray is supplying an Urika-GX analytics machine to the UK's Alan Turing Institute for data science research.
The supercomputer appliance – the GX in the model name indicating it has a graph engine – is an x86-based monster with OpenStack, Apache Mesos, Spark, and Hadoop installed. Its CPUs are 18-core Intel Xeon E5-2600 v4s. These Cray beasts can pack up to 1,728 cores across up to 48 nodes (with two processors per node) linked by an Aries interconnect.
It can take up to 22TB of memory, and storage is provided by up to 176TB of Intel P3700 PCIe SSDs. You can build these out of 16, 32 or 48 nodes, and the system is installed in a standard rack.
How much do these Urika's cost? An ESG study for Cray said the year-one cost for a 48-node system, looking at capital and operational expenditure, was $1,056,260, and the three-year TCO was $1,754,680.
The main lure of the Urika-GX is its graph engine software. This can be used to discover relationships between objects in a graph. The graph here is not a chart but a mathematical structure modeling relationships and processes in an abstract way. An object or node in the graph is related to or connected to other nodes by "edges" or lines and the strength of the relationship can be given a value or weight.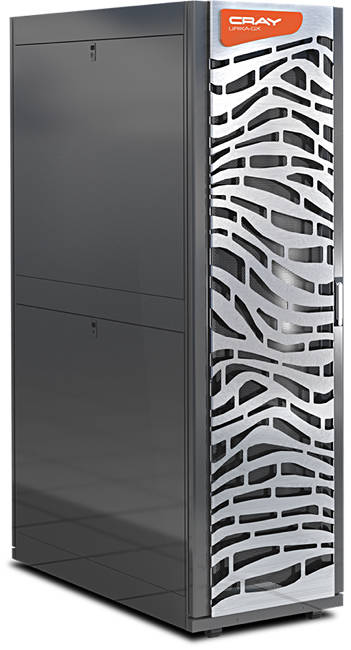 A Urika-GX rack
Such a graph can be analysed to find connected objects, the shortest path between a set of objects, how certain objects are clustered together, and that sort of stuff. The more objects and edges there are, the bigger such analyses get, massively so.
Nvidia suggests one such analysis could be used for parsing speech to determine what is the most likely sequence of words that matches a given set of sounds. There are a huge set of other possible applications, and data science research looks at how information can be organized, what analyses can be done, and how they can be done.
The Alan Turing Institute is the UK's national data science institute, and is hosted at the University of Edinburgh, specifically in the Edinburgh Parallel Computing Centre (EPCC). Researchers there will use the Urika-GX to develop applications in several areas including engineering and technology, defense and security, smart cities, financial services, and life sciences.
Let's hope they get their million-plus taxpayer quids' worth of use out of Urika. ®