Gartner's Magic Quadrant flashes up pure flash array-pusher prize-plucker. It's Pure
Is that clear?
---
Rickety rectangle house Gartner has promoted Pure Storage to the top of the all-flash array pack in its latest Solid-State Array (SSA) Magic Quadrant, and yanked Kaminario into the leaders' quadrant for the first time.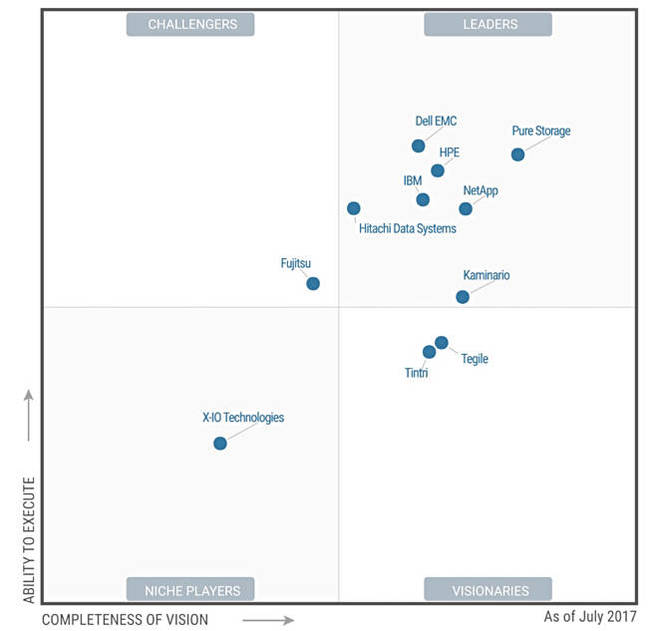 Gartner MQ for Solid-stare arrays, July 2017 - click chart to embiggen
The first impression is that Pure is now placed in front of Dell EMC, HPE and NetApp in the leaders' quadrant for suppliers with the "most ability to execute" as well as "completeness of vision".
Gartner says Pure Storage had a vision and a plan to move SSAs into new market segments and create a broader product portfolio, and it has successfully achieved its goal.
Behind these four we find IBM and then HDS and then Kaminario, which has been in the visionaries' quadrant for the past couple of years (high completeness of vision score but a lower ability to execute than the leaders).
In relation to Kaminario's "enhanced ability to execute", Gartner notes it now has a worldwide presence, with increased investments in emerging markets.
NetApp and HPE have been promoted within the leaders' quadrant, overtaking IBM, and HDS has entered it from the challengers' quadrant (good ability to execute, not so complete a vision as the leaders) where it was placed in 2016.
For comparison, here are the equivalent SSA MQs for 2016 and 2015: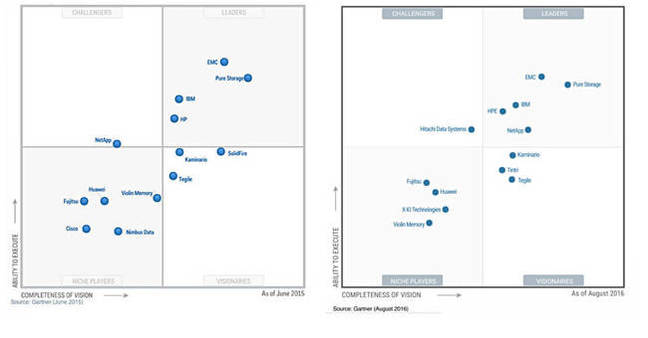 Click chart to embiggen it
Gartner notes the IBM Storwize V9000 was not included this year as it did not meet the inclusion criteria, because it can be upgraded with disk drives and therefore is classed as a hybrid array. Gartner also stated that IBM's DS8000F series lacks compression and deduplication, and Storwize SSA products have no deduplication either. Lastly IBM's all-flash arrays lack a specific pathway to NVMe-based storage arrays within the next six months. These things will have affected IBM's MQ position.
Last year Fujitsu was in the niche players' quadrant (less "completeness of vision" and lower "ability to execute") and now it has been promoted to the challengers' box, having a stronger "ability to execute" according to Gartner.
Previous niche player Violin Memory, although out of bankruptcy, is no longer on the chart. Huawei, which was in the niche players last year, has vanished, leaving recovering X-IO Technologies as the sole niche player.
Tegile and Tintri are the only visionaries, with newer placers like Apeiron and Excelero being too new to have a presence on Gartner's SSA radar.
To have a place in Gartner's SSA MQ, Gartner SSA vendors must have a dedicated model and name for an SSA, generally available by 4 March 2017, and the product cannot be configured with hard-disk drives (HDDs) at any time. That possibly explains Huawei's absence this year. It's an absence that Huawei will be keen to fix. ®