IBM signs up for EU Cloud Code of Conduct, opens four data centres
Big Blue's public serivce hits nearly 60 DCs worldwide
---
IBM has signed up to an EU Cloud Provider Code of Conduct initiative and is announcing four new data centres in the UK, Australia and Silicon Valley for the IBM Cloud.
There are two in London, one in Sydney and the fourth in San Jose and they are open now. They take the IBM Cloud global data centre total to almost 60 in 19 countries.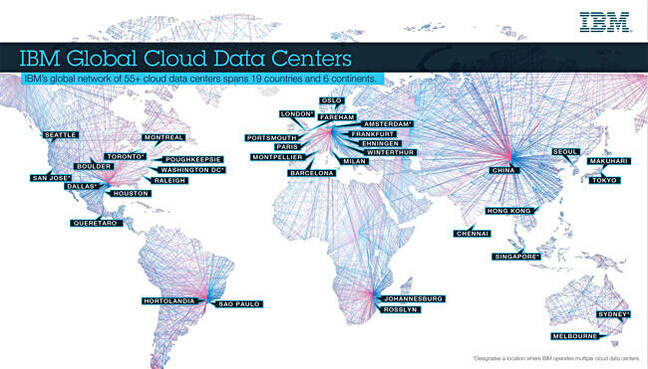 IBM cloud data centre estate before today's additional four centres were added
There are now five IBM Cloud data centres in the UK, with an additional one to be launched later this year. IBM says key UK centres are positioned within 40km of each other to have high network resilience and low network latency. Example customers are Dixons Carphone, National Express, National Grid, Shop Direct, Travis Perkins PLC and Wimbledon. It's a good racket for IBM to be in.
Big Blue said in November last year it was adding four new UK data centres, and signed an agreement to lease space within Ark Data Centres in the UK. That would see one of these four fully operational in mid-2017. Ark is a joint venture partner with the UK Government delivering public sector data centre services under the Crown Hosting Framework.
The new San Jose centre is IBM's third in the area and 23rd in the US. It has enough capacity for thousands of physical servers and cloud infrastructure service customers can use it for bare metal servers, virtual servers, storage, security services and networking. Local customers include Nanigans and Sovrn in the advertising and marketing technology industry.
Nanigan's Ben Tregoe, SVP of business development, gave out another canned quote: "IBM Cloud infrastructure has helped put us in a position where we now process billions of post-ad click events, support over 16 million purchase events each day and help our customers track over 1.5 billion user profiles."
The Sydney facility is IBM's fourth cloud data centre in Australia and offers bare metal, private and public virtual servers and object storage covering infrastructure-as-a-service for computing, storage and networking. IBM has recently announced its Sydney and Melbourne data centres are offering a cloud container service based on Kubernetes and Docker.
IBM says it is the only cloud provider in Australia delivering a complete set of IRAP-certified cloud services.
A canned quote from John Considine, IBM's general manager for cloud infrastructure services, said: "IBM operates cloud data centres in nearly every major market around the world, ensuring that our clients can keep their data local for a variety of reasons – including performance, security or regulatory requirements. We continue to expand our cloud capacity in response to growing demand from clients who require cloud infrastructure and cognitive services to help them compete on a global scale."
Clients will use more than 150 APIs and services to deploy applications ranging from cognitive and blockchain to big data and IoT. Customers like Bitly and Haliburton are already doing so.
We're told IBM's data centres have the security and privacy features needed to enable its customers to comply with the European General Data Protection Regulations (GDPR). IBM says it's one of the first signatories to the Cloud Provider Code of Conduct (PDF) in the EU, known without irony as the EU Cloud Code of Conduct, which covers privacy and security and changes in regulations such as the forthcoming GDPR. ®