This article is more than 1 year old
Feature snatcher Microsoft tweaks OneDrive
But Placeholders won't be replaced until autumn
Neither Apple nor Microsoft has a great history with their cloud graveyards consumer cloud file systems, tripping up users with frequent strategy lurches and abandoning features over the years.
Microsoft made small amends this week: by adding, rather than taking away, a feature from OneDrive. OneDrive is the cloud file system used by PC, HoloLens and Xbox.
For Windows 10 Microsoft took away "placeholders". These allowed the user fine grained control over what was synchronised; in Windows 8, the full catalog of files was mirrored on the PC, but not all were downloaded: the file icon clearly indicated that the synchronisation status: "available online" or "available offline".
This only confused people, product manager Gabe Aul explained, as he introduced the euphemistically named "selective sync". Far from being more "selective" than before, it offered users an all-or-nothing option for which folders to sync. Windows 10 also hid files in Windows Explorer, and you'd need a browser to see everything that was stored in the cloud.
Microsoft has now vowed to restore the richer, older functionality, and yesterday made further amends by adding versioning to more file types in OneDrive. Previously only Office files could use OneDrive versioning. This feature has been supported locally by Windows client since Vista, and online by DropBox for years (although only 30 days of copies are kept).
But OneDrive Offline Files, as we must call it, won't return until the Windows 10 "Fall Creators Update" later this year, the next big platform release named in honour of Mark E Smith's garage band.
In May, Microsoft said the Sharepoint equivalent, Files On Demand would be coming to Office files first as a preview in the summer". For now, OneDrive gains versioning for 30 days, just like DropBox.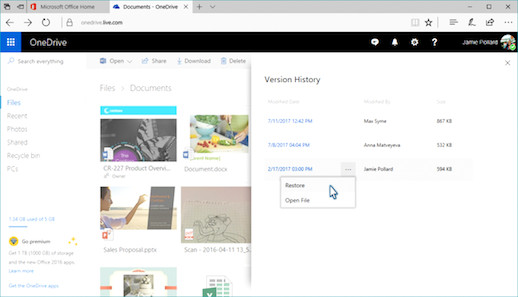 You can find out more here.
Apple's history of online file systems is even more of a graveyard than Microsoft's. iDrive was launched as a 20MB (yes, 20MB) offer for iTools subscribers in 2000, staggering through a couple of rebrandings as iCloud then MobileMe iDisk, before being snuffed out in 2012. Today it's iCloud Drive.
In June, Apple introduced its first new file system for almost 20 years, Apple File System (APFS) which will be the default in the next macOS, High Sierra, and iOS 10.3 and Apple's Watch and TV devices. You can find out more about that here.