White boxer is a white racker: Supermicro touts Rack Scale Design
VBlock-like converged systems
Building servers, switches and storage are a good racket for ODM Supermicro but building Vblock-like rack scale systems is an even better one.
It has launched a complete Rack Scale Design system using its server and storage building blocks in standard racks, with multiple rack PODs.
Supermicro first talked about its RSD ideas in March.
Rack Scale Design (RSD) supports Intel Xeon SP-based X11 generation and all existing X10 generation server and storage systems, as well as Supermicro networking products. It introduces pooled NVMe storage shared by multiple application hosts over PCI-E interconnects.
RSD building blocks share power and cooling resources to provide the claimed best PUE metrics in large scale data centre deployments.
Supermicro says customers need to able to put together racks of gear - servers, storage and networking, more easily. Its RSD is pre-packaged, pre-validated, and built on an open standards-based architecture with API-driven Redfish management. It's integrated with data centre management software layers such as OpenStack.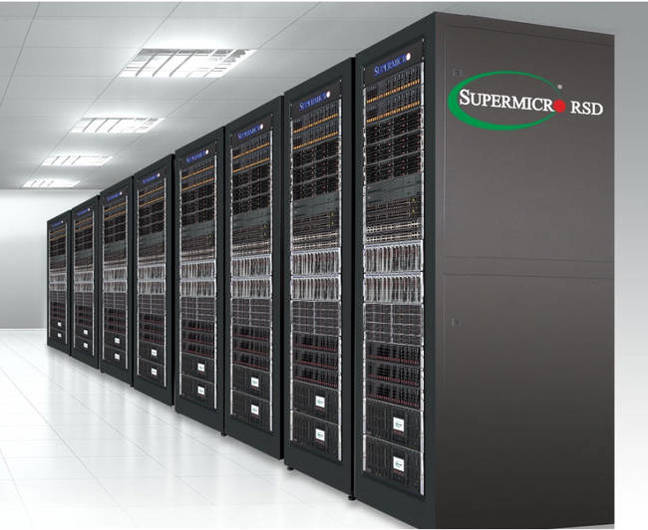 The Supermicro product lines and technologies involved in RSD include;
Ultra NVMe,
BigTwin,
TwinPro,
FatTwin,
SuperBlade servers,
SuperStorage servers,
Supermicro 1G, 10G, 25G and 100G Ethernet switches,
SuperRack technologies.
The Supermicro Rack Management Module (SRMM) is based on Redfish APIs (and Intel's RSD) and works with Supermicro's POD Manager to speed deployment and make data centre management easier, according to Supermicro. We're told pools of compute, storage and networking across racks can be managed as physical servers, storage arrays and switches are managed now.
Supermicro says that, with RSD, many application hosts can share and dynamically compose systems to support wide range of workloads with a balanced computing, networking and storage ratio.
The company thinks data centres are having to change to cope with application sets needing more data storage and better access to the data, meaning more drives in less physical space, faster drives and faster access to them; shared NVMe drives and PCIe connections to the host servers.
Charles Liang, Supermicro's President and CEO, said that RSD includes a 1U enclosure with 32 hot-swap NVMe SSDs inside it, claiming this is "unrivalled density."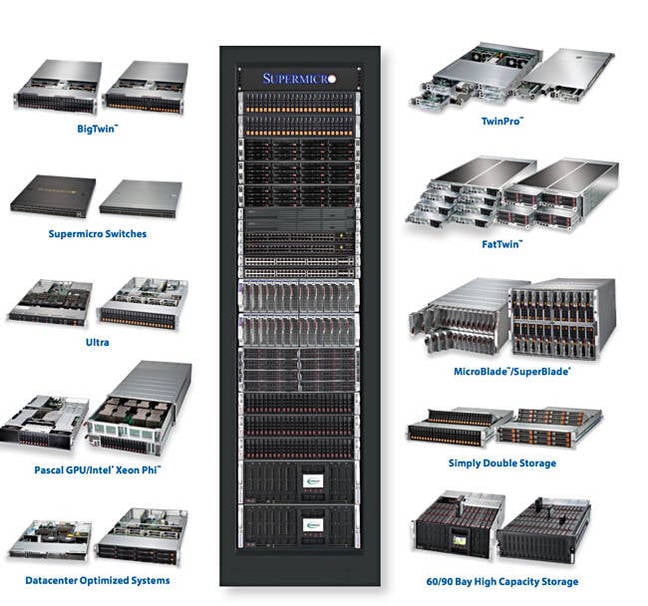 RSD configuration illustration
The customer types in mind are cloud service providers, telecoms and Fortune 500 companies. We should understand, Supermicro says, that RSD technology provides a foundation to build future infrastructure for both data centre and cloud environments.
Future RSD releases are planned to support other PCIe end point devices, such as FPGAs, and help data centre operators to programmatically control software-defined data centres from bare metal to cloud-native applications.
RSD systems are available now. Get a brochure here (PDF). ®