Bristolian AI chip startup Graphcore has had a fast B-round 12 months after its $32m A-round funding was first revealed.
The May 2017 A-round involved big names like Dell Technologies Capital along with Robert Bosch Venture Capital, Samsung Catalyst Fund, Amadeus Capital Partners, Foundation Capital, Pitango Venture Capital, Draper Esprit and C4 Ventures.
Graphcore told us the Series A funding happened in summer 2016. It was announced in October 2016 when EMC and Dell were merging their venture arms and weren't ready to say Dell Technologies had made the investment. They eventually announced it in May this year.
Graphcore is developing an Intelligent Processing Unit (IPU) for machine-learning applications like deep neural nets. In February we said this IPU has massively parallel, low-precision floating-point compute and provides much higher compute density than CPUs or GPUs, and even Google's Tensor Processing Unit.
Now, three years after it was founded, and just two months after the A-round, Graphcore has snagged a $30m B-round led by Atomico. AI luminaries, as they are called, like Demis Hassabis (DeepMind), Greg Brockman (OpenAI), Ilya Sutskever (OpenAI), Pieter Abbeel (UC Berkeley/OpenAI), Scott Gray (OpenAI) and Zoubin Ghahramani (University of Cambridge, Chief Scientist at Uber) are all investing. All the existing strategic and VC investors pumped in cash as well.
Hassabis said: "Building systems capable of general artificial intelligence means developing algorithms that can learn from raw data and generalise this learning across a wide range of tasks. This requires a lot of processing power, and the innovative architecture underpinning Graphcore's processors holds a huge amount of promise."
Graphcore boasts its IPU is a real game-changer for machine intelligence developers, giving them 10-100x better performance than alternative processors. The promise is that machine intelligence models could run in minutes instead of days or weeks.
It claims to have been inundated with offers for additional funding from leading financial and strategic investors over the last year. Graphcore says its first-generation IPU product is nearly ready to launch, with early access customers getting it before the year's end. That and initial testing must have encouraged investors. The new cash will help Graphcore strengthen its development effort. The company has some 60 employees presently and could have 120 to 180 by the end of 2018.
It's developing a post-first-gen IPU roadmap, looking at another 10x performance improvement, and, for the next 18 months, is focused on:
Delivering the first-gen IPU product
Scaling up production deliveries of IPU products for use in production servers and cloud environments in 2018
Building developer and partner community around its Poplar C++ graph-framework software with support for leading machine learning frameworks, including Tensorflow, MxNet, Caffe2 and PyTorch
Adding another significant round of growth capital in 2018 so it scale out the company quickly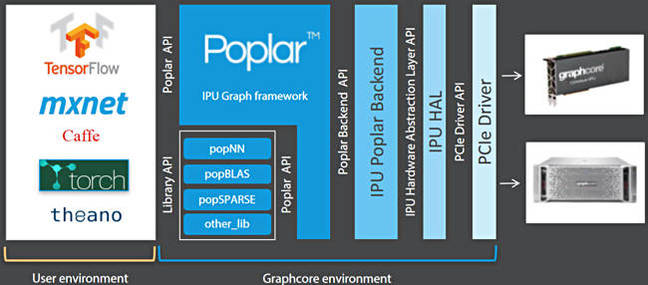 Graphcore software stack
The Poplar framework abstracts the graph-based machine-learning development process from the underlying graph-processing IPU hardware. It includes open-source graph libraries so existing user applications, using machine-learning frameworks like Tensorflow and MXNet, will work out of the box on an IPU.
Read a Poplar overview article (registration required) here (PDF). Check out Graphcore's blog articles here.
If the second-round investors are right, use of Graphcore's IPU could spread rapidly with a subsequent acceleration in machine learning model development and AI application delivery. Cleverer chatbots and smart-ass virtual assistants are coming – arghh! ®