Vodafone reports sliding revenues but customers don't hate them as much
And India still a mighty struggle
---
Vodafone's UK reputation is improving thanks to network improvements, the company said, pointing to a higher net promoter score as it revealed its results today.
Vodafone phased out its low-end brand Talkmobile during this period. It claims a better network (with just 0.49 per cent of calls dropped) and better 4G coverage helped.
UK service revenue was down 4.8 per cent ("reported") or 2.7 per cent ("organic") – the latter excluding what Vodafone calls regulatory costs, like the EU's roaming charges mandate. Mobile service revenue declined 2.3 per cent or 1.7 per cent, excluding handset financing. Enterprise and fixed line continued to decline.
Overall reported revenue fell 8.7 per cent and organic revenue 14.3 per cent. So why did Vodafone share price revive today?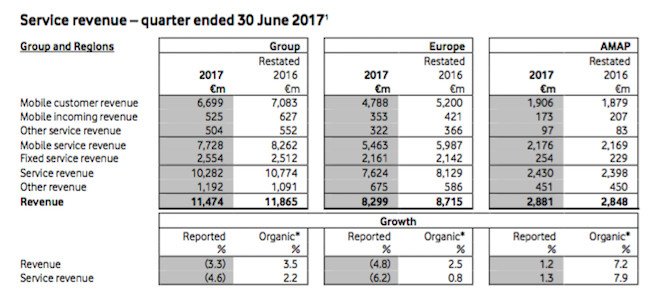 Decent performance in Europe, Turkey and Africa, largely. India has turned out to be a huge cash commitment for the group. Vodafone bolstered its assets by merging its operation with Ideal, making it the largest operator. But it continues to face a brutal price war on the subcontinent: service revenue declined 13.9 per cent (of 11.5 per cent) year-on-year, ending the quarter with 211.9 million customers. 41 million are on 3G or 4G.
Similar topics
Broader topics