Commvault grew revenues by 9 per cent year-on-year in its fiscal first 2018 quarter, ended June 30, 2017.
There was a typical seasonal effect with the prior, fourth fiscal 2027 quarter, being higher. The bald revenue and net income numbers, with change percentages where appropriate, are:
| Commvault Quarterly Results | Q1 fy2018 | Q1 fy2017 | Change | Q4 fy2017 | Change |
| --- | --- | --- | --- | --- | --- |
| Revenue | $165,972,000 | $151,774,000 | 9% | $172,900 | -4% |
| GAAP Net Income | -$284,000 | -$2,610,000 | 89% | $3,200,000 | -1,227% |
The loss for the latest quarter is almost 90 per cent less than a year ago.
A chart showing the quarterly trends indicates a seasonal effect depressing Commvault's first quarter. It also shows how this latest quarter is higher than the year-ago one which, in turn, was higher than the year-ago quarter.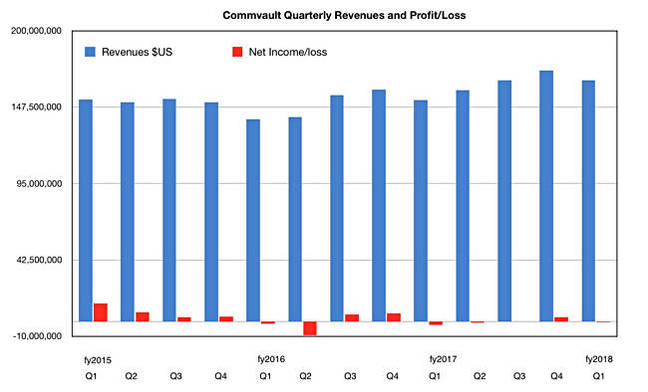 Commvault revenues and net income by quarter to Q1 fy2018
Commvault's software-only revenues grew 18 per cent year-on-year to $74.8m, which was flat compared to the prior quarter. Services revenue was $91.2m, up 3 per cent both annually and sequentially.
Its chairman, president and CEO, Bob Hammer, tells the world: "We began fiscal year 2018 with a solid first quarter, highlighted by 18 per cent year-over-year software revenue growth. All of our global sales regions contributed to our year-over-year software revenue growth which was driven by a significant increase in the dollar amount of enterprise revenue transactions and strong initial results from our new committed subscription based pricing model."
He says Commvault continues to see see improved business momentum. It made a $3m prepayment for software royalties related to offerings for hyperconverged environments and scale-out appliances.
Stifel analyst Aaron Rakers called it a solid quarter, with strong year on year growth in deferred revenue, which implies growth is coming in maintenance revenues. Referring to the hyper-converged area he says he expects Commvault's new hyperconverged strategy to become a more visible incremental growth driver over the next three quarters:
"Our discussions suggest Commvault's hyper-converged enterprise opportunities could reflect deal sizes that are as much as 2-3x larger than the company's traditional enterprise deals." ®