Data analytics startup Iguazio has raised $33m in a B-round.
That takes total funding for the three-year-old Israeli firm to $48m. Strategic investors included Verizon Ventures, Robert Bosch Venture Capital, CME Ventures and Dell Technologies Capital, plus existing investors Pitango Ventures, Magma Venture Partners and Jerusalem Venture Partners.
It says its strategic investors all have an interest in owning the (Internet of Things) edge, and Iguazio opens an opportunity for them to create something as abstract and simple as the public cloud but fits the lower latency and high-performance requirements of its target markets – telco, service providers, IoT and the financial services industry.
Iguazio claims it provides cloud-like integrated data analytics services for on-premises and edge deployments, but with better performance and a simpler developer experience than AWS.
Instead of integrating and paying for multiple AWS services like S3, DynamoDB, Kinesis, EFS, RedShift, EMR, and Lambda, with Iguazio the customer only deploys one service and can read or write the same data through any of those APIs.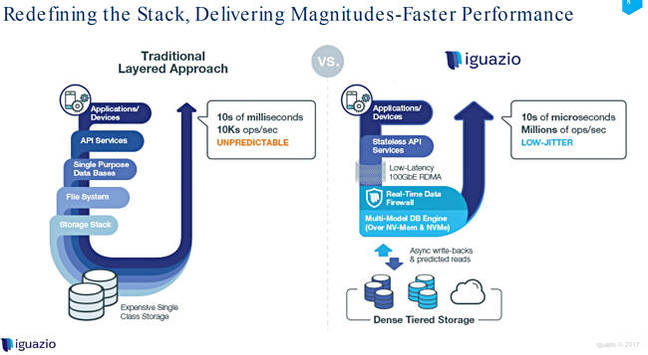 Iguazio technology chart
Check out this Kubernetes conference session for a look at Iguazio's technology.
It says current beta customers include automobile manufacturers working on connected vehicles, a ride-sharing services company, financial services, cyber security and media customers with a focus on real-time analytics and machine learning across large data sets. ®