This article is more than 1 year old
Luczo's so-so luck: Seagate switches CEOs, sales fall, 600 jobs cut
'Technology shifts present demand variations for the storage industry'
Seagate revenues fell 9.1 per cent in the three months to June 30, aka the fourth quarter of its fiscal 2017 year. It has also changed its CEO, and announced a headcount cut for good measure.
With the revenue dip and a miss on earnings – $0.65 per share vs the hoped-for $0.98 – the share price tumbled, at time of writing, by 15 per cent to $33.40 apiece.
CEO Steve Luczo excused the revenue slump by telling Wall Street: "The results of our performance this fiscal year reflect improved year-over-year profitability of our storage product portfolio and business operations.
"Although the near-term dynamics of technology shifts present demand variations for the storage industry from time to time, we continue to see growing storage demand in the long run, driven by the proliferation of data growth from new technologies, emerging industries, and growing businesses."
Sales in the fourth quarter were $2.41bn, compared to $2.7bn a year ago and $2.67bn a quarter ago. Quarterly net income of $114m compares to the year-ago $70m, a 62.9 per cent jump in profit, and the $194m reported the previous quarter, a 41.2 per cent drop.
In terms of exabytes shipped – mostly in disk drives – Seagate said enterprise mission-critical exabyte shipments were flat year-on-year, and there was 4.5 per cent growth on the previous quarter.
Nearline high capacity enterprise capacity shipped declined 14 per cent, while PC exabyte shipments were up 14.3 per cent year-over-year. Non-compute exabyte ships were down quarter-on-quarter.
Full fiscal 2017 year revenues were $10.8bn, down 3.6 per cent from last year's $11.2bn.
Full year net income was $772m, a 211 per cent improvement on last year's $248m; nice one. Costs and product mix have been more firmly under control this year.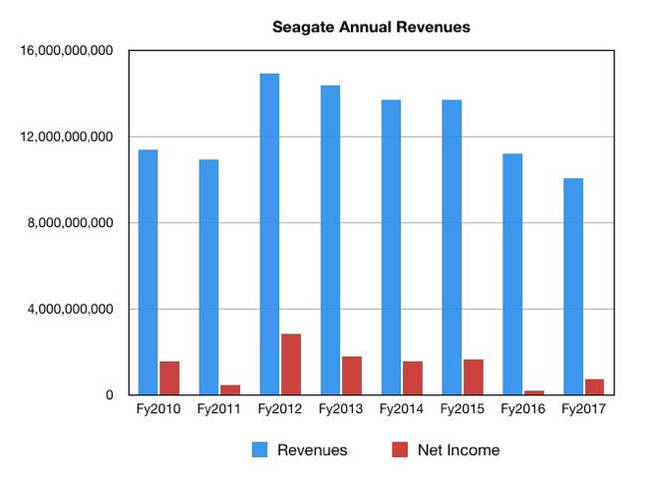 Full year revenues and net income chart
The full year revenues and net income chart shows five years of falling or flat revenues, as Luczo's reign results in a shrinking business.
Headcount cut
Seagate will lose 600 employees globally, with most going by the end of September. It's expected to result in total pre-tax charges of approximately $50m, with around $90m in annual savings going forwards.
CEO Switch
Steve Luczo will go upstairs to become executive chairman of the board on October 1, with president and chief operating officer Dave Mosley taking over the CEO spot and getting a board slot. Apparently the board has been working on the transition for a couple of years.
Here's Luczo's canned quote: "It has been an honor and a privilege for me to have served as Seagate's CEO in 16 of the last 20 years. I am grateful to our amazing employees, customers, suppliers, and shareholders. I am excited about our future and I look forward to working with Dave in my new role as executive chairman at Seagate."
Mosley said: "Seagate has a critical role in storing and securing the world's data and I am proud of our tremendous global employee organization that works every day to support that effort. I look forward to Steve's ongoing counsel in the role of Executive Chairman."
Lead independent director Mike Cannon gave out a pat-on-the-back quote, as you might expect. "On behalf of the Board, I would like to thank Steve for his significant leadership contributions and commitment to shareholder value creation. We look forward to Steve's ongoing stewardship as Executive Chairman."
The company points out that while Luczo was CEO from January 2009 through the end of Seagate's fiscal 2017, its overall total shareholder return is in the top 15 companies in the S&P 500 Index.
No future in disk
Seagate says Luczo will focus on longer-term shareholder value creation, whatever that means. As he's so far avoided Seagate getting any more involved in the NAND business than if it were playing Trivial Pursuit, we don't have high hopes for moves in that direction. Although in this case this pig must fly there, because disks are losing their lustre and don't offer much of a growth opportunity.
Nor too does his other long-term storage array plaything – HPC-style Xyratex disk arrays and more mainstream Dot Hill arrays.
Luczo has Seagate focused on bulk storage of enterprise data on high-capacity disk drives, yet shipments of such drives fell in the quarter as Seagate missed a switchover to 10TB helium-filled drives. Stifel analyst and MD Aaron Rakers sees Western Digital having an 80 per cent ship share in this market.
In our view, Luczo has failed to get Seagate ahead in his implementation of this strategy while he has no effective answer to Western Digital's flash strategy at all.
The board can bleat on about Luczo's shareholder return record, but the business revenue-fed pie that those returns come from has been shrinking for five years. He's really been looking at short-term shareholder value.
Someone needs to look at Seagate's long-term shareholder value, but Luczo wouldn't appear to have the right track record of running the business, or strategic vision, to accomplish that. ®