Toshiba SSDs are being used to speed Lenovo ThinkSystem and ThinkAgile servers.
The PX04P SSD is an NVMe-attached SSD in AIC or 2.5-inch form factor with capacities from 800GB to 3.84TB. It uses 2bits/cell (MLC) flash and delivers up to 660,000/185,000 random read/write IOPS and 3.1/2.5 GiB/sec sequential read/write bandwidth across the PCIe Gen 3 x4 connection. The endurance is up to 10 full drive writes a day for five years – this is pukka enterprise data centre kit.
ThinkSystem is Lenovo branding for servers, storage and network switches. The ThinkSystem servers are divided into blade, rack, tower, dense, mission-critical and hyperscale. These products, apart from the hyperscale ones, support Intel's latest Xeon SP processors.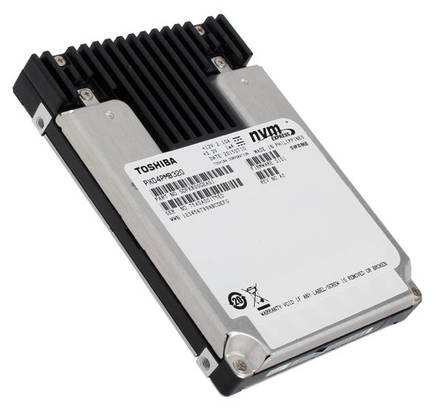 Toshiba PX04P NVMe SSD
The two companies mention that ThinkSystem servers aim to expand traditional data centre infrastructure to enable hyperscale and HPC deployments.
ThinkAgile branding is used in part of Lenovo's converged systems product range, with the ThinkAgile SZ for Azure Stack, ThinkAgile SZ for Nutanix, and ThinkAgile HX Series (integrated with Nutanix's Acropolis hypervisor).
Analyst IDC has said Toshiba was the fastest growing vendor for 2016 in the $17bn SSD segment. We should point out that Toshiba is currently trying to sell its (NAND) memory business as part of a recapitalisation exercise, and has an intense and convoluted ongoing legal dispute over this with flash foundry joint-venture partner Western Digital. ®