GitHub has added a chunk of features it says will help new users and projects build better communities.
Singing the "teamwork" song, the organisation says the features announced here are about making it easier to contribute to projects.
For project maintainers, new contributors will show a "first time contributor badge" attached to their pull requests. That will become a "contributor" badge when the PR is merged, and there's an additional flag to help maintainers "separate signal from noise" during flamewars (politely described by GitHub as "lengthy or heated discussions").
This information is also exposed via the GraphQL API as the issue, pull request, or comment's authorAssociation.
As well as contributing, GitHub has created features covering open source licensing, blocking, and privacy.
So users can navigate the minefield of open source licenses, there's a licence-picker to help a project choose whether they want to use Apache, GNU v3.0, the MIT licence, two kinds of BSDs, Eclipse, GNU Affero v3.0, GNU v2.0, or the GNU Lesser General Public License v2.1.
As you can see in the image below, there's a handy summary of each licence's permissions, limitations, and conditions.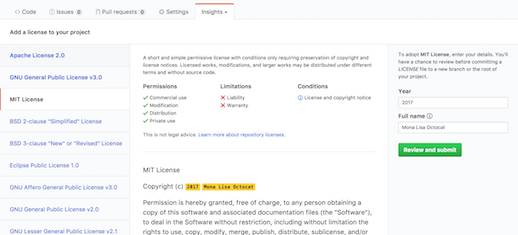 GitHub's licence picker - click to embiggen
There's better e-mail privacy so potential contributors aren't scared off by having their contacts popping up unexpectedly in their profile; and "keep my e-mail private" is the default for new users.
Finally, there are also changes to how blocking is handled, so you can choose whether or not to put up with the excessively-sweary. ®