DRaaS supplier Axcient is merging with eFolder, and eFolder will be the combined business's name.
The eFolder business was started up as a value-added reseller (VAR) in Atlanta, GA, in 2002, providing IT services with a cloud backup product. That was accompanied by others offering backup and disaster recovery (BDR), business continuity and file sync service. It also progressed to selling its services to other VARs, systems integrators, managed service providers (MSPs) and comms service providers in the channel instead of to end users, and has around 3,000 channel partner/customers (effectively MSPs).
Kevin Hoffman is the co-founder and CTO and ex-CEO. Matt Nachtrab is the CEO, appointed on July 20 – he was the chief strategy and chief revenue officer. Three other co-founders – John Williams, Bill Gross and George Welborn (left Jan '17). Williams and Gross are also no longer listed on eFolder's leadership webpage.
It's had two rounds of funding: $26m in 2013 and $7.84m in 2016. The company is now headquartered in Boulder, CO. The product set is a suite of data protection technologies with Replibit for backup and disaster recovery, Anchor for file sync and sharing, and Cloudfinder for backup, search, and eDiscovery for Office 365 and other SaaS services. Now it gets to add DRaaS to this mix.
Axcient was started up in 2006 by CEO Justin Moore to provide SMBs with cloud-based disaster recovery using an on-promises gateway appliance replicating encrypted data to Axcient data centres. It has pulled in $89.2 million in seven funding events.
Gartner placed Axcient in the visionaries' corner of its 2015 DRaaS magic quadrant: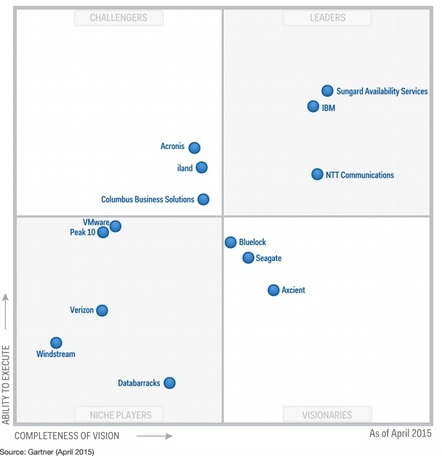 The combined company will be able to sell its services to channel partners addressing SMBs and the mid-market. It says it will continue operations in Denver, CO; Mountain View, CA; Austin, TX; and Smolensk, Russia with over 100 team members in R&D. It has more than 50,000 customers and 400,000 endpoints under management and more than 4,000 MSP customers, including more than 90 per cent of the 100 largest MSPs in North America.
The top management structure will be Matt Nachtrab as CEO, Kevin Hoffman as CTO and Justin Moore as Chief Strategy Officer.
Hoffman's canned quote said: "MSPs today are often forced to partner with multiple vendors to serve their clients of varying sizes. Our goal is to provide a single integrated cloud- managed solution that cost-effectively scales down to provide resiliency for single-server SMBs, while effortlessly scaling up meeting the needs of mid-market companies with 100s or 1000s of virtual machines."
The bulked up eFolder company reckons it's positioned to grow strongly, and why not. Merger terms were not disclosed but we guess Axcient shareholders get shares in the enlarged eFolder and are happy with the growth prospects. ®