This article is more than 1 year old
Yeehaw! And welcome to another rootin'-tootin' storage pony wrangling
Bring some Vaseline because you're gonna have a rawhide
We've added a fair few thoroughbreds to this week's storage corral. Let's send in a wrangler and see what we've got.
Aspera
IBM business Aspera has issued a white paper on its FASP high speed transport direct-to-cloud storage
FASP (Fast And Secure Protocol) provides high-performance secure WAN transport of files, directories, and other large data sets to, from and between a number of third-party cloud storage platforms.
The implementation is an enhanced transport stack and virtual file system layer in the Aspera server software that allows for direct-to-object-storage transfer over the WAN using the FASP protocol and the native IO capabilities of the particular third-party file system.
v3.4 supports OpenStack Swift (v1.12) for IBM Cloud Object Storage, IBM SoftLayer and Rackspace, Amazon S3, Windows Azure BLOB, Akamai NetStorage, Google Storage, Limelight Cloud Storage,+HDFS, HGST and NetApp Object Storage.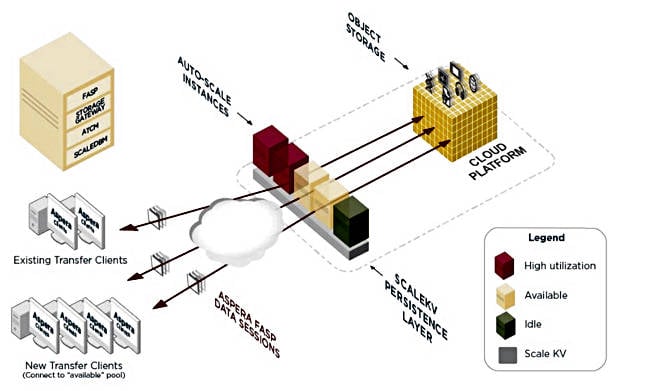 Aspera diagram
FASP overcomes the WAN data movement bottleneck while also maximising and stabilising the throughput to the underlying object storage. The deep integration with the object storage APIs delivers maximum transfer performance, while adding key transfer management features such as pause, resume and encryption over the wire and at rest.
Read up on FASP here.
Cloudian
Object storage supplier Cloudian has initiated a Data Management Partners Program. It combines data management products with Cloudian's scalable storage in tested and proven systems for enterprises unstructured data growth needs.
Charter members include Rubrik, Komprise, Evolphin, and CTERA Networks.
Data protection: Rubrik and Cloudian together unify and automate backup, instant recovery, replication, global indexed search, archival, compliance, and copy data management into a single scale-out fabric across the data centre and public cloud
Data lifecycle management: Komprise and Cloudian tackle unstructured data lifecycle management, with solutions that offload non-critical data that is typically 70 per cent plus of the footprint from tier-1 NAS to a limitless scalable storage pool
Media active archiving: Evolphin and Cloudian help media professionals address capacity-intensive formats (4k, 8k, VR/360) with the performance to handle time-pressed workflows
File synch and share: CTERA Networks and Cloudian provide enterprises with tools for collaboration in capacity-rich environments
CTERA
Version 6.0 of CTERA's Enterprise File Services Platform software has been announced and it caches files from any cloud to on-premises appliances – called enterprise edge devices – and desktop users.
The basic pitch is simple enough: CTERA 6.0 enables workers to securely access, share and protect an unlimited number of files in the cloud as if they were stored locally on their desktop or on shared network drives, without being constrained by local storage capacity or security compromises.
In a little more detail it has:
Distributed Caching: Provides both remote users and office environments access to centralised files in the cloud while optimising file server and endpoint access speed,
A caching engine that uses global deduplication to accelerate synchronisation of enterprise data and optimise storage utilisation
Universal ACLs: CTERA preserves pre-existing enterprise file access control lists (ACLs), and makes it simple for users to migrate their remote office shares to a desktop or laptop experience
CTERA says it is the only technology vendor that enables NT ACLs to follow files across office file servers, desktops and even mobile devices.
It reassures CIOs that this provision of unified modern file services for endpoints, offices and servers comes with the highest levels of security and full IT control over data migration, governance, and choice of cloud.
Intel and Lustre
There's a new Lustre v2.10 LTS (Long-Term Support) software release from Intel. It adds:
Multi-rail LNET: Network link aggregation to increase bandwidth over multiple network connections
Progressive File Layouts: Adaptive file striping allows the number of file stripes to increase as file size grows, maintaining maximum performance
Optimizations for Intel Omni-Path Fabric: Enables the creation of multiple endpoints via the Lustre Network Driver (LND) which increases overall performance when using OPA networks
Filesystem Snapshots: Integrated using OpenZFS copy-on-write functionality to snapshot the filesystem. Snapshots can be mounted as a separate namespace
Project Quotas: Allows administrators to set and enforce quotas based on individual projects when using ldiskfs. Increases flexibility when compared to user/group quotas
NRS Delay Policy: Provides high server load simulation as a way to validate resilience of the file system under load
Download the software here.
Paragon Software
Paragon Software has released Paragon UFSD for Nucleus, technology that grants instant access to popular macOS, Linux, or Windows-formatted file systems under Nucleus OS.
It's targeted at embedded systems manufacturers, Paragon UFSD (Universal File Systems Driver) technology delivers interoperability with all popular file systems – FAT, NTFS, exFAT, HFS+, extFS — when integrated into electronic devices.
More than three billion devices throughout the world run today on the Nucleus real-time operating system (RTOS), with its FAT-compatible file system tailored specifically for embedded applications.
Paragon says embedded device developers are no longer limited to obsolete FAT and can now implement any popular file system on resource-constrained, energy-efficient devices that run at low speeds.
UFSD for Nucleus OS includes functionality for working with several storage partitions at once and supports internal and external storage devices; SATA HDD, USB-HDD, SSD, SD cards, etc.
Point your web browser here for more information.
Samsung
Stifel analyst and MD Aaron Rakers tells us Samsung reported strong NAND flash results in 2Q17 with a mid-single digit quarter-on-quarter increase in total flash bits shipped.
This compares, he says, to SK Hynix reporting -6 per cent q-o-q flash bits shipped in 2Q17, and Micron reporting NAND flash bit shipment growth at +17 per cent q-o-q in the May 2017 quarter.
Also Samsung reported very strong total memory (DRAM, NAND) results with revenue at KRW 13.940 trillion, +65 per cent y-o-y (vs. +39 per cent and +53 per cent in C4Q16 and C1Q17, respectively); revenue grew 15 per cent q-o-q.
Samsung is reiterating an expectation of total NAND flash industry bit growth at approximately 30 per cent y-o-y for 2017, predicting its own bit shipment growth to slightly outpace the market.
It highlighted continued strong server demand trends, offset by weaker component demand in the mobile market given industry inventory reductions.
Seagate and Dot Hill
With Seagate unloading its ClusterStor HPC array business to Cray, what about its other disk drive array business Dot Hill? Its array and enclosures are sold to OEM customers who sell them on to end users with their own branding.
In this way Dot Hill works like an original design manufacturer (ODM).
During Seagate's latest earnings call CFO Dave Morton answered a question about Seagate's disk drive array business. "The systems business that we have is – there's a few different kinds of business in there. There's some specialty products buildout that we do. And then there's some things where we're really acting more like an ODM, I'll say. And that stuff is not very good business.
"And obviously a lot of ODMs got themselves into situations with the supply chain issues where either they were underwater or they couldn't procure parts at the right point. They had supply that was older supply, so to speak. So it was a really tough road for the last two quarters in that. And we're going to have to really take a look at how much of that business we continue to support going forward."
This suggests that the ODM part of Dot Hill is not that profitable and raises a question mark over its future.
SoftNAS
NAS software supplier SoftNAS says its Cloud NAS product offers limitless, highly durable and highly available cloud object storage.
Customers will get near block storage performance at object storage prices from their chosen cloud platform vendor. This is because if SoftNAS's ObjFast technology which streamlines parallel IO paths between the cloud NAS and native cloud object storage delivering maximum throughput.
SoftNAS says it delivers the increased performance with SoftNAS Cloud NAS to meet customer demands from cloud object storage, including AWS S3 and Azure Blob storage.
There are four Cloud NAS product editions available on the AWS and Azure Marketplaces. In addition to the current 1TB and 20TB product editions, SoftNAS Cloud NAS scales to one petabyte for thse on-demand offerings:
Developer Edition: Free from SoftNAS up to 250GB in perpetuity on AWS and Azure Marketplaces
General Purpose Edition: Balances cost against memory and CPU resources
High Performance Edition: Ideal for read-intensive workloads needing additional compute processing power gained through larger numbers of CPU cores and RAM
Extreme Performance Edition: Supports demanding workloads requiring thousands of concurrent file system connections and higher speed networking connections
Newly introduced SoftNAS Cloud NAS on-demand marketplace capacities are expanded from 1TB and 20TB to include 50TB, 100TB, 250TB, 500TB and 1PB. Annual licenses can grow up to 16PB.
These editions have, it's claimed, enterprise-class NAS features: patented SNAP HA high availability, block replication, deduplication and compression, 360-Degree encryption (at-rest and in-transit), storage snapshots, RAM and SSD caching and data synchronisation.
All Marketplace editions of SoftNAS Cloud NAS of 20TB or greater are bundled with 24x7x365 Gold Support. Prices as low as $.01 per GB-mo (volume annual pricing up to 16PB) and from $0.21 per hour for on-demand marketplace pricing.
Spanning
This spin-out from Dell, offering in-cloud backup, has SaaS data protection services for G Suite, Salesforce and Office365.
It has expanded its offering for G Suite to Team Drive, claiming it's the industry's only automated and on-demand backup and restore solution for Team Drive content offering unlimited storage, versions and backup.
Apparently lots of customers requested this development. It signals a shift from individual ownership of files and folders to team ownership, according to Spanning. So, it says, this shift provides a way to replace any legacy "network shares" customers still have in place and use Team Drives for storing, sharing and collaborating on business critical files.
Veritas
Veritas has a new data classification engine, the Integrated Classification Engine (ICE). It can be used to scan and tag data so as to ensure that sensitive or risky information is managed and protected. In GPDR (General Data Protection Regulation) terms this is PIL (Personally Identifiable Information).
Veritas says ICE provides visibility into PII and helps companies meet compliance regulations that require discrete retention policies be implemented and enforced across the organisation's entire data estate, regardless of where that data lives. ISE can locate where PII exists across an organisation's data estate and drive actions that help it be appropriately retained and/or deleted.
ICE includes:
More than 100 pre-configured patterns for recognition of credit card and social security numbers, medical records and other PII
Pre-loading with more than 60 different policies for GDPR, HIPAA, Sarbanes-Oxley and other regulations around the globe to accelerate compliance readiness
A dictionary to identify risky keywords that suggest improprieties
Confidence-scoring and quality assurance tools to minimise false positives 
Veritas Data Insight 6.0 triangulates insights from content classification, metadata analytics and user behaviour to uncover potential bad actors or malicious activities. Its builds a proprietary "User Risk Score" as a first line of defence for identifying suspicious activity and initiating remediation efforts to keep sensitive files protected.
Deep learning technology incorporates the User Risk Score and other file attributes to hunt for an organisation's riskiest files and recommend next steps.
Veritas Enterprise Vault 12.2 enables administrators to reclassify all existing content with consistent patterns and policies delivered via ICE. It aligns the classification tags with retention policies to ensure that all critical data is managed appropriately, while the "junk" can be deleted within the normal course of operations.
Enhanced classification capabilities enable faster investigations by making it easier to search for content using classification tags and so expediting the process of responding to discovery or information requests to address compliance regulations.
Enterprise Vault 12.2 will be available in August through Veritas and its worldwide channel partners.
Data Insight 6.0 is available today from Veritas and its worldwide channel partners.
ICE is available now in Veritas Data Insight 6.0 and will be available with Veritas Enterprise Vault 12.2 in August. Future integrations are planned across Veritas' data protection, storage and governance portfolio.
Customers
DataCore says that ExCeL (Exhibition Centre London) is a long-term customer. We're told over three million people a year visit ExCeL. It relies on a secure, always-on IT infrastructure to power critical business apps for the smooth running and processing of large events – from visitor registrations to systems that manage the entire venue. ExCeL does this from two physically separated data centres for business continuity and disaster recovery.
Paul Tuckey, IT Manager, ExCeL London, said: "The ExCeL hosts events continually throughout the year, so downtime has never been an option. For the past ten years we have successfully relied on DataCore's SANsymphony solution running in a replicated dual node configuration to present all data to our VMware enterprise cluster. Protecting our apps remains the most important function for IT."
The SANsymphony SW runs on HPE hardware with Nexsan storage arrays, serving up virtual disks to virtual machines. It uses parallel IO processing technology to speed data access. ®