This article is more than 1 year old
Flash, aaaaaah! Western Digital waggles sales in nemesis Seagate's face
How's business on the other side of that $2.4bn void?
Western Digital earned the revenues it said it would in its final fiscal 2017 quarter and gave an object lesson to Seagate in how to run a storage drive business.
WD revenues were $4.8bn for its latest quarter, compared to Seagate's $2.4bn, a difference of 100 per cent. That's what buying into the flash chip and SSD business does. Five quarters ago the revenue difference between the two companies was just $200,000 in WD's favour, and it had remained in the $200k-400k area for many quarters before that.
The quarter's numbers for WD are:
|   | Q4 fy2017 | Q4 fy2016 | Change % |
| --- | --- | --- | --- |
| Revenues | $4.8bn | $3.5bn | 37.1% |
| GAAP Net Income | $280m | -$351m |   |
In the previous quarter WDD's revenues were $4.6bn, meaning there was a 4 per cent rise in a typical seasonal third to fourth quarter pattern, with third quarter net income being $235m.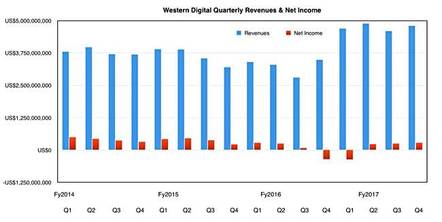 WD revenues and net income by quarter. Click to enlarge
The full-year numbers are:
|   | fy2017 | fy2016 | Change % |
| --- | --- | --- | --- |
| Revenues | $19.1bn | $13bn | 46.9% |
| GAAP Net Income | $397m | $257m | 54.5% |
The revenue-boosting effect of buying SanDisk is clearly visible in this chart of full-year revenues, with its abrupt return to fiscal year revenue growth in 2017: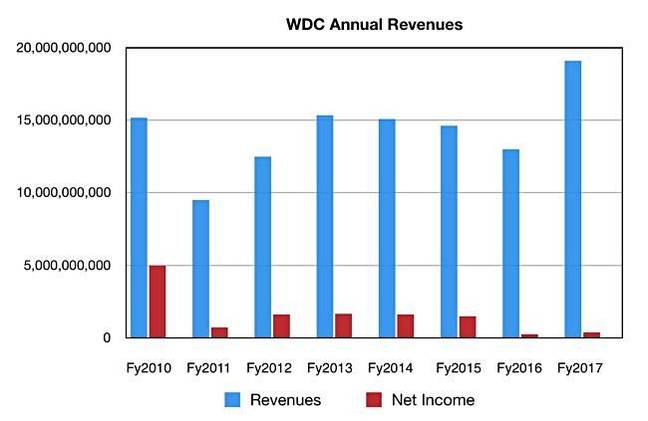 What enabled things to go so well? CEO Steve Milligan burbled: "Our unique platform of diverse storage technologies and value-added products helped drive this performance as we addressed a broader set of markets following the SanDisk acquisition. We operated near the top of our revenue growth model with 7 per cent year-over-year top-line growth on a pro-forma basis, and we delivered very healthy margins."
Good for you, boss. But what actually happened?
Financial statements revealed 39.3 million disk drives were shipped, slightly down on the 40.1 million a year ago. But that's 81.2 disk exabytes shipped, much more than the year-ago total of 66.1. The average selling price per drive stayed the same at $63.
A look at the disk segment splits shows the long-term slump in disk drive sales as flash takes over in PCs, notebooks and the high-performance enterprise drive areas.
There was a big jump in shipments of consumer disk drives and a modest rise in enterprise drives this quarter: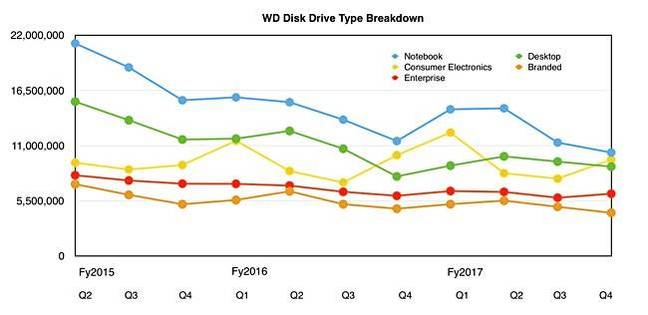 Click to enlarge
Obviously the revenue jump comes from flash drives but WD's prepared financial statements and fact sheets don't reveal flash drive units shipped and capacity shipped numbers.
The earnings call revealed president and COO Mike Cordano's thoughts about why WD did so well, relatively, in the disk drive area. "We obviously feel very good about where we are with our 10 terabyte. We had significant quarter-over-quarter growth in terms of our output and our volume and our revenue. And we think we're in a very good position... to continue to gain momentum through the back half of the year and that's from 10 terabyte to 12 terabyte."
Seagate beat WD to shingled media disk drives, and Cordano said: "I would acknowledge that our competitor went earlier in client and they had a lead on us. We're in the process of closing that. But our strategy has been from the beginning, deploy the technology where most value could be obtained from it and we see that happening frankly speaking at 14 terabytes and beyond and we'll be quite competitive at that point."
Talking about NAND, Cordano said: "Results from our NAND flash products were strong in the midst of a continued constrained supply environment and HDD results were largely within our expectations."
CFO Mark Long amplified this. "We saw sustained strength in capacity enterprise hard drives and enterprise SSDs, offset by a decline in performance enterprise hard drives. Client Devices revenue for the June quarter increased 36 per cent year-over-year, primarily driven by significant growth in mobility and client SSDs. Client Solutions revenue for the June quarter, increased 14 per cent year-over-year driven mostly by our valuable global retail brands in removable and other Flash-based products."
That's flash-boosted revenues in the enterprise devices, client devices and consumer retail markets.
Cordano said conversion of 2D Planar NAND production to 64-layer 3D NAND was well under way, the development of 96-layer 3D NANMD progressing well, and the latest 4bits/cell (QLC) flash technology looked promising. Everything looks rosy here, so long as it doesn't get derailed by the Toshiba legal battle.
Milligan was asked about contingency plans if the joint venture with Toshiba ran into trouble. He didn't want to go there. "I don't think that that's a reasonable scenario to be considered. I would find that to be – and I'm not sure how to characterize it, but just highly unrealistic assumption to assume that."
Toshiba dispute
Milligan mentioned the legal scrap with Toshiba briefly, saying: "Mark [Long, CFO] and I were in Japan last week to continue our dialogue with Toshiba and its stakeholders. Our discussions were constructive, and we will continue to work to seek a solution that is in the best interests of all parties.
"Beyond that, we will not get into more detail on this matter until we have a material update to share with you."
He had to answer two or three questions about chip supply from the JV, though, and he played the "constructive discussions" card. "We remain in constructive dialogue with Toshiba and our stakeholders in Japan and that includes conversations with regards to Fab 6.
"I can assure you and our shareholders that last week and ongoing we're having discussions with Toshiba regarding Fab 6 and the discussions are constructive."
Back to Seagate and WD's outlook
A final piece of eye-candy is a chart comparing Seagate and Western Digital quarterly revenues since 2014:

Click to enlarge
The right-hand side of the chart shows the $2.4bn gap in revenues that is the result of Seagate boss Steve Luczo's failure to break into the flash drive business and being late to helium-filled disk drives. Seagate is now a shrinking business while WD is growing.
The outlook for WD's next quarter is revenues of $5.1bn, compared to $4.7bn a year before that. Cordano said: "We continue to believe that the favorable NAND industry conditions will persist at least through the first half of calendar 2018."
So long as the legal war with Toshiba doesn't screw up WD's ability to make and ship flash drives then it's set fair for the future. ®