This article is more than 1 year old
Cohesity adds archiving, analytics to Orion's belt
v5.0 combines end-to-end data protection and big data storage
Secondary storage consolidation player Cohesity has fulfilled a long-term promise and added archive-accessing workload support for Big Data analytics.
In April, Cohesity picked up $90 million in a third funding event and wanted to expand its data platform's applicability from data protection by adding use cases "with a special focus on analytics, test/dev, file services and object services".
The software already combined on-premises data stores and public cloud data stores into one abstracted repository, managed through a single pane of glass.
Orion represents the analytics extension. Providing analytics was part of Cohesity's original plan, mentioned in a release about its June 2015 $55m second funding event.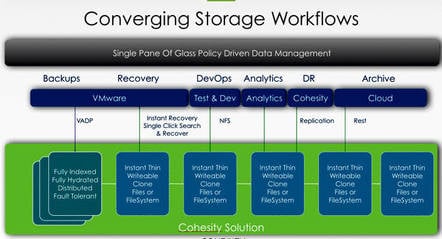 Cohesity Orion v5.0 provides this workload extension as well as enlarging Cohesity's data protection capabilities. It adds:
Data Protection:

Ability to back up hypervisors beyond VMware vSphere, including Microsoft Hyper-V, Nutanix AHV, and Linux KVM
Ability to back up NAS devices beyond NetApp, including EMC Isilon, Pure Storage Flashblade, and any generic NAS, for both NFS and CIFS/SMB file systems
New file-level backups for physical Linux servers, in addition to volume-based backups, and bare-metal restores for Windows servers
Any-point-in-time, instant restores at scale

Archiving:

Simultaneous multiprotocol access to content via NFS, CIFS/SMB, and S3 protocols, through underlying SpanFS filesystem
SpanFS contains SnapTree; a distributed metadata structure based on B+ tree concepts
Global in-line deduplication and compression across all content, including the industry's first and only deduplicated S3 object storage
Global indexing and search for rapid retrieval – Orion indexes all file and object metadata and provides global search across an entire cluster
File system and user quotas with audit logs
Its scalability has been tested up to 256 nodes, 3PB of data and 80GBps throughput. The software supports Cohesity's new C3000 dense node hardware, with up to 183.68TB capacity in a 2U chassis (176TB disk + 7.68TB PCIe flash). The C3000 has a capacity almost twice that of the existing C2000 nodes, and is intended for large files and objects. The C3000 and C32000 nodes can be mixed in a cluster.
The public cloud part of the archive can be Google Nearline, Microsoft Azure, Amazon S3 and Glacier, with any S3 and NFS-compatible storage supported as well.
Cohesity's existing customers will probably welcome this v5.0 software and it will give its channel partners reasons to go calling on new customers.
A Cohesity blog provides lots of information about Orion v5.0 and the C3000. Check out a SpanFS white paper (registration required) here.
Cohesity Orion 5.0 will be generally available for all customers within 90 days.