Databarracks has started offering business continuity as a service (BCaaS) to small and medium-sized businesses in the UK.
The company already provides disaster recovery as a service (DRaaS) and is a "niche player" in that field, according to Gartner, along with Acronis, Carbonite and Daisy. It was started 15 years ago as a managed online backup services provider and focuses on DRaaS, backup, and email and file continuity.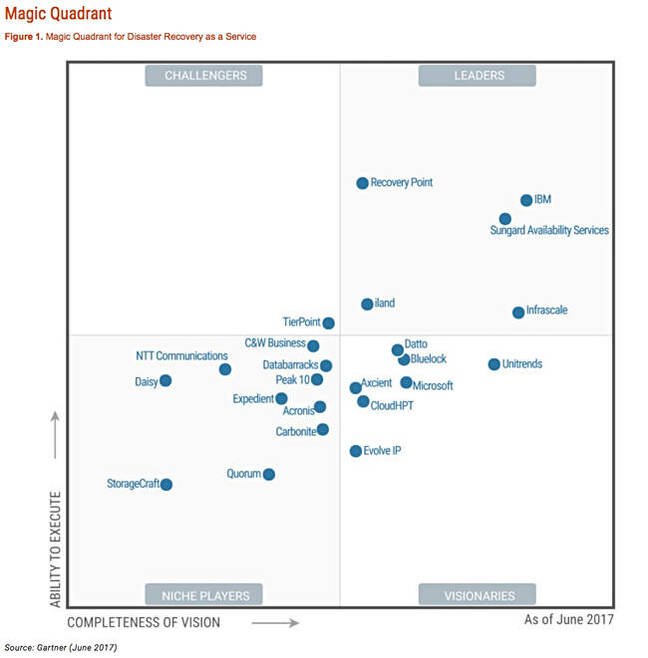 Databarracks in Gartner's DRaaS June 2017 magic quadrant – niche players' box
A new executive chairman, Mike Osbourne, joined in July, and MD Peter Groucutt has been in place since 2002. The BCaaS offering aims to make system resiliency and preparedness an integrated part of an SMB's IT set-up. Each one gets the attention of a Databarracks business continuity expert, with a programme for periodic monitoring, assessment and BC plan updating.
It's a six-phase approach – discovery, embedding and analysis, awareness and reporting, mitigation planning, implementation and exercising, and then ongoing management and regular testing.
The use of experts is mandatory for this, not being a simple product that can be bought from a public cloud-like service.
Osbourne said: "One of the biggest complaints about business continuity is that it can be overly complex and seen as an expensive insurance policy. Actually, the best practitioners make [it] common sense and simple to follow, teasing out the knowledge that exists in the business and blending that with proven methodologies and industry best practice.
"By aggregating our BC experts over multiple clients, we can deliver ongoing business continuity preparedness for a fraction of the cost normally associated with such a comprehensive approach, often this will equate less than the cost of an office junior.
"We are confident BCaaS will finally provide credible continuity for SMEs at an affordable cost."
If he is right then a similar opportunity is there ready for suppliers in the rest of Europe, the US and elsewhere.
Find out more here. ®