HP Inc reveals dockable, wearable VR workstation for the office
Backpack PC aimed at designers who move between metaphorical mice and VR
---
HP Inc has released a backpack PC for the office.
The company already makes the Omen backpack PC for gamers, but the newly-revealed HP Z VR Backpack PC is aimed at design pros.
The PC weighs 4.65 kg, including the harness. Should you shoulder that burden you'll be lugging around an Intel Core i7-7820HQ with four cores and the ability to hit 3.9 GHz if the standard 2.9 GHz isn't enough for your VR needs. An NVIDIA Quadro P5200 does the heavy graphical lifting. 32 GB of RAM and at least 256GB of storage (1TB is top capacity) round things out.
10/100/1000 Ethernet, 802.11ac and Bluetooth 4.2 connect the machine to the world. Multiple VR headsets are supported.
HP says the machine has hot-swappable batteries but the PC's data sheet doesn't reveal their capacity, so it's hard to know whether the machine will be truly useful.
Details of the dock connector are also light on, as the product's spec sheet suggests it is proprietary. Thankfully it does also mentions that the dock comes with each Backpack PC, a welcome decision compared to the pricey extras required to get the best out of Dell's wireless-charging Latitude 7285 12-inch two-in-one.
Prices will start at US$3,299 when the machine ships in September.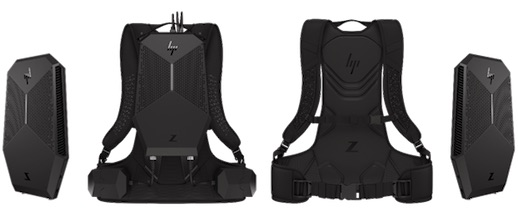 HP's Z VR Backpack PC
HP Inc is pitching the machine at businesses: it reckons that designers and "creators" want a machine they can work with on the desktop, then throw on to experience their digital creations in glorious virtual reality. The Backpack has therefore been positioned as just one of several VR-ready PCs that HP Inc is entirely happy to have you acquire, with the Backpack suggested as a useful part 3D design efforts.
This is safe territory for HP Inc, which has long been the market leader for workstations. Adding a backpack PC to its range means it has all the bases covered in the million-or-so-units-a-year workstation market.
The new machine's also exciting gamers, who have quickly noted that the Z VR Backpack PC's specs are rather more powerful than the Omen range. ®
Similar topics
Narrower topics