The Telegraph newspaper accidentally published an obit of the Duke of Edinburgh, instead of reporting his retirement from official duty today.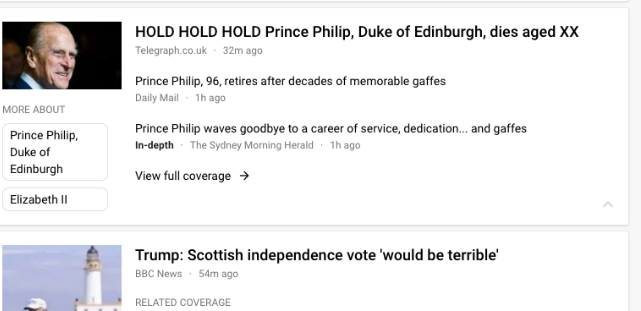 Google News headlines this morning.
The headline of the article read: "HOLD HOLD HOLD Prince Philip Duke of Edinburgh dies aged XXX," with the subhead: "Prince Philip waves goodbye to a career of service, dedication... and gaffes."
Gaffes indeed!
The article, published two hours ago and then swiftly taken down, read:
The Duke of Edinburgh, the longest-serving consort to a monarch in British history, has died at the age of XX, Buckingham Palace has announced.
Prince Philip, whom the Queen described as her "strength and stay" during her record-breaking reign, passed away XXXXXXX
FILL IN DETAILS
He will be given a royal ceremonial funeral in line with his wishes, which is expected to take place in seven days' time."
No official details have yet been released about the Duke's funeral, codenamed Operation Forth Bridge by the Royal Household, as the final say about the nature of the ceremony rests with the Queen.
Courtiers will present her with a range of options and she will decide which is most appropriate.
However, Palace insiders have said the Duke specified he wanted a "low key" funeral at St George's Chapel, Windsor Castle, where he will also be interred.
It's not the first time this has happened. In May The Sun made a similar gaffe when it announced: "Prince Philip dead at 95, how did the Duke of Edinburgh die, etc etc."
And of course there was the notorious tweet from a BBC reporter in 2015, who mistakenly claimed the Queen had died. The BBC Trust said at the time the tweet was "a serious breach".
A Telegraph spokesman said: "We sincerely apologise for the mistake that was made this morning, which was of course rectified immediately.
"We will be reviewing our publishing processes as a matter of urgency."
Hat-tip to reader Vince for first spotting this. ®