Heavy clouds in IT world make it rain gold for UPS box manufacturers
Data centers need good uptime, and good uptime means backup power – ka‑ching!
---
The growth in cloud computing services is creating a financial windfall for perhaps an unlikely source: backup battery vendors.
As the demand for larger and more reliable cloud data centers has grown, hosting companies are increasingly building up their stock of backup power supplies, and as a result, uninterruptible power supply manufacturers will profit.
According to research from IHS Markit, revenues for UPS devices are on the upswing after years of falling after their peak in 2011. While 2016 saw the market finally eke out some growth, analysts believe UPS revenues will continue to rise in 2017 before taking off in full by 2018.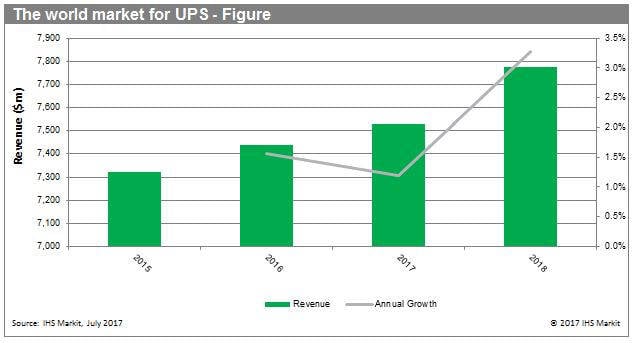 2015-2018 projected revenues
"Digitization continues, with the number of internet users and internet connected devices growing rapidly, leading to increasing demand for compute," said IHS research analyst Lucas Beran.
"With colocation and cloud service providers best poised to meet those demands, 2016 may be a glimpse into what the future holds for the UPS market."
The reason for this, says IHS, is the growing demand for the UPS devices that provide power backups for cloud and colocation data centers. Many of these centers employ truly massive amounts of equipment in each location, and in most cases require uptime rates well over the 99 per cent mark to keep customers happy.
In particular, the researchers believe data center companies are taking a close look at lithium-ion-based battery units, which have fallen in price recently, making the units affordable at scale.
"With significant decreases in price in recent years, lithium-ion batteries are warranting more consideration. However, despite the recent decreases in price, lithium-ion batteries still carry a much higher total initial investment than traditional valve-regulated lead acid (VRLA) batteries," explained Beran.
"But for this higher cost, the benefits of lithium-ion – including higher energy density in a smaller footprint and a longer life cycle – lead to a total cost of ownership that is on par, if not less than, VRLA batteries in most instances."
As a result, analysts believe that UPS revenues will be up over $7.5bn this year and could top the $7.7bn mark in 2018. ®