Toshiba fires off trifecta of SSDs with 30TB range-topping whopper
SAS, SATA and NVMe products using 64-layer 3D flash chips
Toshiba has a three-way SSD news announcement with SATA, and developing SAS and NVMe products, all using 64-layer 3D NAND chips, plus NVMe fabric software claimed to beat open source code.
The PM5 Series is a 12Gbit/s SAS SSD with four-port Multilink technology providing close to PCIE speeds. The PM5 starts at 400GB but scales out to a huge 30.72TB. This is a 2.5-inch form factor drive by the way, with up to 400,000 random read IOPS, and up to 3.35/2.72GB/sec sequential read/write performance, which is a record for SAS SSDs.
The PM5 controller supports multi-stream write to manage and group data types so as to minimize write amplification and garbage collection. There are 1, 3, 5 and 10 drive writes per day endurance options plus secure instant erase.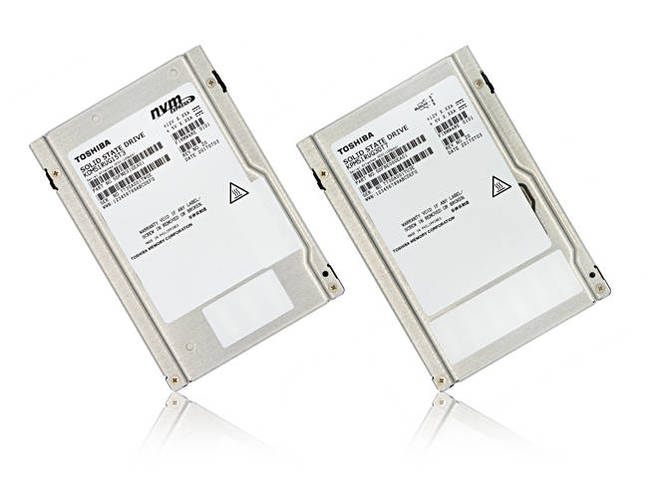 Toshiba CM5 and PM5 SSDs
CM5
Turning to NVMe the CM5 also supports multi-stream write technology. It is NVMe over Fabric-ready with scatter-gather list and controller memory buffer (CMB) features. The CMB feature uses a part of DRAM on the SSD as host-system memory, reducing DRAM load host-side and enabling high speed as a system.
Capacity ranges from 800GB to 15.36TB with 1, 3 and 5 DWPD options.
It delivers up to 800,000 random read and 240,000 random write IOPS for the 5 DWPD (drive writes per day) model and up to 220,000 random write IOPS for the 3 DWPD model, both with a maximum power draw of 18W.
Toshiba says the CM5 is being used as a platform to demonstrate and to enable an ecosystem around the persistent memory region (PMR) capability. PMR enables customers to augment system memory with DRAM on the SSD without the use of expensive non-volatile DIMMs (NV-DIMMs).
This means, Tosh says, the SSD can provide both high-performance storage and persistent memory to meet system performance requirements, while reducing cost by moving metadata operations, such as logging, journaling and application staging, to the SSD.
SG6
Tosh has announced the SG6 6Gbit/s SATA SSD, an update on its existing SG5. The SG5 used single layer TLC (3bits/cell) flash, built with 15nm cell lithography with 128GB, 256GB, 512GB and 1TB capacities. The SG6 uses 64-layer TLC and has 256GB, 512GB and 1TB capacities; not a lot has changed capacity-wise.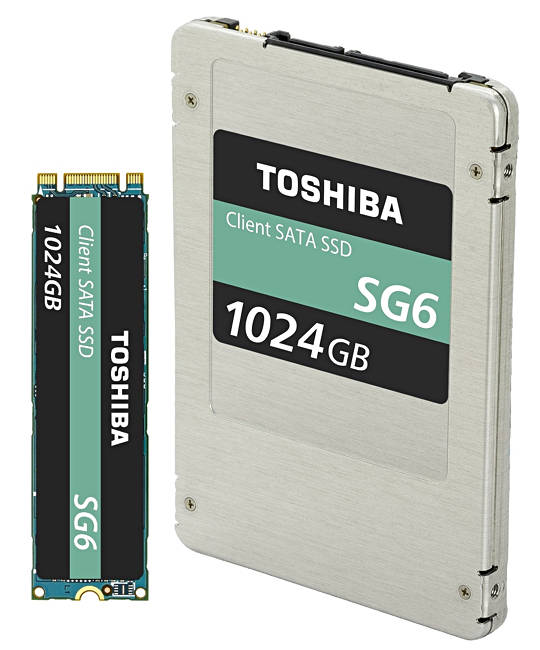 Toshiba SG6
The performance stats are up to 100,000/85,000 random read IOPS and up to 550/535MB/sec sequential read/write bandwidth. With the equivalent SG5 numbers being up to 545/388MB/sec sequential bandwidth, there has been some speed improvement but nothing dramatic.
NVMe over Fabrics software
The company has also announced NVMe over Fabrics software. Tosh says it deploys on storage servers, and provides SSD abstraction, security and manageability currently lacking in existing open source implementations. The software abstracts the details of physical SSDs to enable them to assign virtual namespaces of any size and performance to any compute node making NVMe-oF more deployable in cloud data centres.
There will be future enhancements to scalability, reliability, and high availability through flexible flash management and integrated security.
SG6 samples are currently shipping to customers with general availability later this year. Development of the CM5 and PM5 is expected to be completed in the fourth 2017 quarter and they are sampling to select OEM customers. ®