Kaminario has introduced its K2.N system, the first existing array design to be developed for frontend NVMe-over-fabrics access.
Pure Storage has demoed an end-to-end NVMe over Fabrics setup, with Cisco, but has not announced any availability yet.
The K2.N is an extension of Kaminario's K2 gen 6 array architecture. We have controller or c.nodes connected across a converged NVME fabric – a mesh – to m.nodes, media chassis, which are JBOFs (Just a Bunch of Flash), and have 24 slots in a 2U enclosure. These can be filled with NVMe drives.
Two or more c.nodes enable active:active controlling and they communicate with accessing servers across NVMe over Fabrics (Ethernet or Fibre Channel base), Fibre Channel or iSCSI.
There can be any ratio of c.nodes and m.nodes. Also different types of c.nodes and m.nodes are available,letting customers optimise performance and capacity, and scaling out their K2.N as needs dictate.

Gen 6 K2 array data reduction and protection services are inherited by the K2.N, which comes with updated VisionOS software. K-RAID protects each SSD shelf independently with up to three SSD failures, no single point of failure, non-disruptive upgrades and 99.999 per cent of data availability.
Kaminario's Flex software provides dynamic composability and management of the physical hardware resources, creating virtual private arrays (VPAs) as needed on behalf of users. Multiple VPAs can share hardware resources. VPAs can be dynamically scaled up or down resource-wise, varying their use if the underlying physical array resources as that takes place.
Flex has REST-based APIs so integrates with other management software entities.
The company sees new availability models emerging as hardware failures can be detected, replaced and provisioned from within the software. New tiering models will materialise with the ability to dynamically move data from one tier to another with no physical reconfiguration. Performance-sensitive workloads can "borrow" additional controller compute from the pool to manage surge requirements and then return them to the pool when no longer needed.
Kaminario's Clarity cloud environment is used to provide array operation analytics.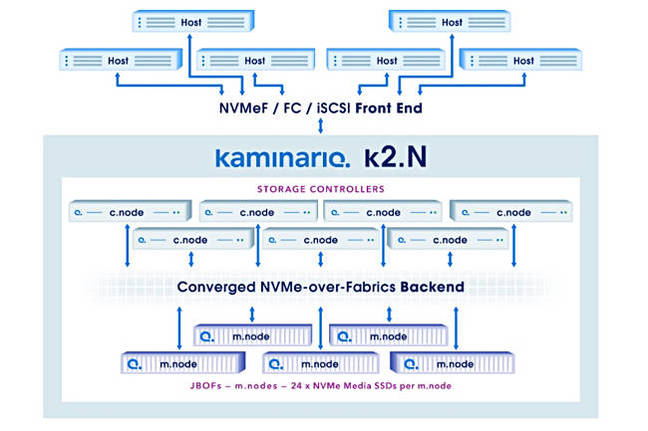 K2.N concept diagram
Hardware partners with Kaminario for K2.N include:
AIC – HA202I-PH, a 2U all-NVMe flash array dual-node server platform
Broadcom – RoCE-enabled NetXtreme Ethernet NICs and Storage SoCs
Brocade (Broadcom) – NVMe over Fibre Channel
Mellanox – RoCE over Ethernet technology with HW acceleration
Supermicro – X11 server and storage portfolio supporting NVMe
Grab a K2.N datasheet here (PDF).
K2.N will be available in the first 2018 quarter. The K2 array will continue to be sold alongside K2.N through 2018 and beyond as the premium on NVMe-based hardware technologies erodes. Kaminario Flex will be available in the second half of 2018. ®