Microsoft's Surface Pro 2017, unhinged: Luxury fondleslab that's good...
... as in Veblen Good
---
Review Microsoft waited almost two years to update its boutique computer, the Surface Pro. In the meantime the line expanded to include a detachable tablet (Surface Book), a desktop (Surface Studio) and a proper laptop (Surface, er, Laptop), while the cheaper, Atom-powered POS (Plain Old Surface) fell into the bin and wasn't rescued. So do you want the tl;dr first?
Fine. This won't take long.
The 2017 Surface Pro (no numbers any more) looks almost identical to 2015's Surface Pro 4, but the battery lasts longer, and it's even more eye-gougingly expensive. Older peripherals for the SP4, like the power supply, the Dock, the fourth-gen Type Cover keyboard and the Pen continue to work, but a Pen is no longer included in the box gratis. It will have an LTE SIM card slot, but not yet. And that's about it for the main features. Some tl;drs are harder to write than others. This is one of the others.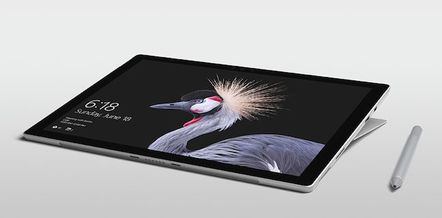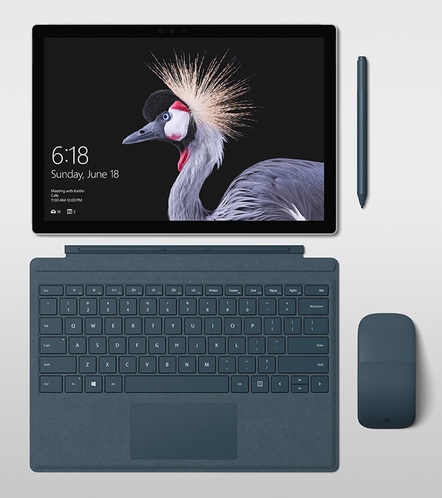 The downsides?
Surprisingly, the port selection remains stuck in 2015, more or less: no Thunderbolt or USB-C. There's still only one USB-A port. Battery life is better, but still not great. The perennial problem of glossy touch displays is greasy paw prints, and again you may think about applying your own layer of oleophobic coating. And the price... oh, the price.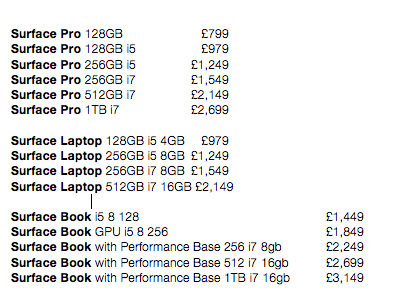 The Surface is almost a kind of Veblen good – the more expensive it is, the more people want it!
If you don't have a Surface Pro, I suspect the price is why. You're spending your own money and want better value and a more robust, albeit larger machine, or you haven't been able to get someone to buy one for you. Bear in mind in the table above, it's another £149 for a matching Alcantara keyboard and maybe even £99.99 for a stylus too. Forget the m3 model and it's crazy to buy a "Pro" machine with less than 8GB of RAM. That's topping £1,500.
But if you can get one, you're going to enjoy it a lot. One reader in the comments on my Surface Laptop review reports that at work, given the choice, 90 per cent of staff plumped for a Surface Pro and my only surprise is what were the other 10 per cent thinking?
Here's what I liked about the Surface Pro 2017 edition. Primarily it's the size and weight. I personally rate this over the machine's 2-in-1 versatility (although that too is a big appeal, the sound is great for catching up on TV). It slips into a reporter's bag – remember, it's a 12.3-inch diagonal display – and when you take it out you're working pretty quickly. The 3:2 aspect ratio is greatly underrated, and for both reading and writing documents, 3:2 is preferable to 16:9.
The display resolution remains unchanged, at an insane 2,736 x 1,824.
I also liked the Alcantara keyboard, now with better (1.5mm) key travel up from 1.3mm, with the strange smoothed fabric you get on the Surface Laptop. The Surface Pen has been given a luxury makeover with and now comes at £99.