This article is more than 1 year old
Samsung drops 128TB SSD and kinetic-type flash drive bombshells
Sammy goes large... very, very large
Samsung has fired out four flashy announcements with higher capcity chips, faster drives, new packaging format and a flash version of Seagate's Kinetic disk concept.
First out of Sammy's gate was a coming 1Tb flash chip using its V-NAND 3D NAND technology. To put that in context, Toshiba's shipping 64-layer die is a 512Gbit design, and it has announced a 768Gbit die using QLC (4 bits/cell) technology. It and WDC have a 96-layer chip prototyping and have talked about 1Tb chip technology.
Sammy predicts its 1Tb chip will become available in 2018 and it should will enable 2TB of capacity in a single V-NAND package by stacking 16 1Tb dies. We might expect a potential capacity doubling of current Samsung V-NAND SSDs.
At a press briefing Sammy talked about a 128TB SAS flash drive using QLC (4bits/cell) technology and a package of 32 stacked 1Tb chips. The 32 stacked chips will provide parallel access to the individual chips.
NGSFF
The Korean chipper thinks that current 2.5-inch and M.2 form factors are ill-suited for use in thin, 1U servers and suggests a new format to be installed in them, which would enable more flash capacity and IOPS. It's calling this its Next Generation Small Form Factor or NGSFF and is sampling a 16TB NGSFF drive.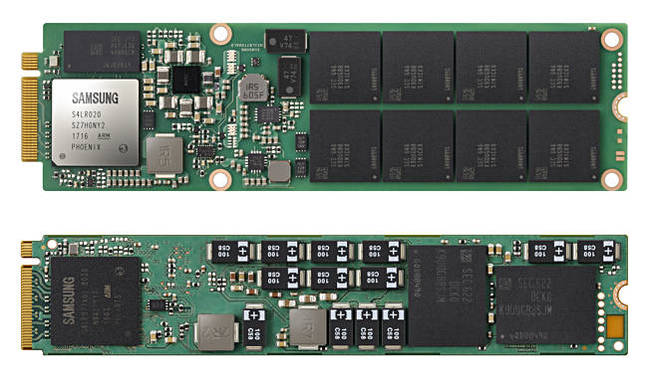 Samsung NGSFF SSD
The carrying card measures 30.5mm x 110mm x 4.38mm. In comparison the M.2 format is 12 to 30mm wide and 16 to 110mm long, with most shipping cards being 22mm wide and 30 to 110mm long. Samsung's NGSFF is as large as a maximally-sized M.2 card. The longer and/or the wider the card the more flash chips can be installed on it.
Sammy has a 1U 576TB server reference system with 36 x 16TB NGSFF cards which delivers around 10 million random IOPS, triple that, it claims, of a 1U server fitted with 2.5-inch SSDs.
It plans to put the NGSFF cards into mass production in the fourth quarter of 2017 and will work to get the format standardised.
Z-SSD
Sammy announced an SZ985 Z-SSD product.
It announced its faster-than-basic-NAND Z-SSD at last year's Flash Memory Summit. It seemed to be an optimised SLC (1bit/cell) type of flash with an NVMe interface. The Z-SSD was positioned as an Intel/Micron 3D XPoint type technology, having low enough latency - around 25μs we suggested - for it to be four times faster than bog standard NVMe flash.
The SZ985 has a 15μs read latency, one seventh of an NVMe SSD, reducing system response time by up to 12 times, according to Sammy, which is hoping it will be used in data centres and enterprise systems dealing as real-time "big data" analytics and high-performance server caching.
This will give Intel's P4800X Optane drive a run for its money.
And we're to expect gen 2 Z-SSDs to have an MLC (2bits/cell) design.
Key-Value SSDs
The fourth item in Sammy's news blast was a Key Value SSD.
Startup OpenIO is building disk drives with an ARM CPU front end providing a direct Ethernet interface and maintaining a key:value object store on the drives. This follows Seagate's initial Kinetic disk drive concept of a disk drive with a direct Ethernet interface and on-board object storage using a key:value store.
The Sammy "take" on this is that SSDs can store data faster and more simply if they take in a data object and store it as it is without converting it into logical blocks and mapping them to physical blocks. A data item is given a key which is its direct address, regardless of its size.
Sammy says, as a result, when data is read or written, a Key Value SSD can reduce redundant steps, which leads to faster data inputs and outputs, as well as significantly extending the life of an SSD.
A Kinetic-style flash drive will certainly be faster than a Kinetic disk drive.
But Sammy has to work with software and application partners to get this style of flash storage used. We remember Scality was supportive of the Kinetic idea. Perhaps it should give Samsung a RING. ®