This article is more than 1 year old
Quantum's scale-out storage revenues didn't scale out enough
Tape, though? That's one tough mofo
Quantum delivered flat results with its business in limbo and awaiting direction and tuning from the new and CEO-less board.
Essentially Quantum's revenues and net income were flat on the annual compare, with a trivial rise in revenue and a trivial reduction in net loss.
|   | Q1 Fy2018 | Q1 Fy2017 | Q4 Fy2018 |
| --- | --- | --- | --- |
| Revenues | $116,900,000 | $116,300,000 | $120,800,000 |
| GAAP Net Income | -$3,700,000 | -$3,800,000 | -$1,900,000 |
The drop from the previous quarter's revenue is a recurring end-of-year pattern. Take a look at the recent quarterly revenue and net income history: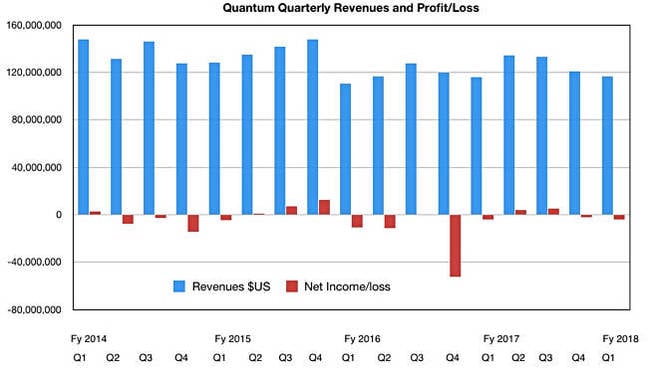 Quantum's quarterly revenues and GAAP net income to Q1 fy29018
This appears to be a business that has lost its growth mojo. The segment splits provide some colour to this black and white judgement.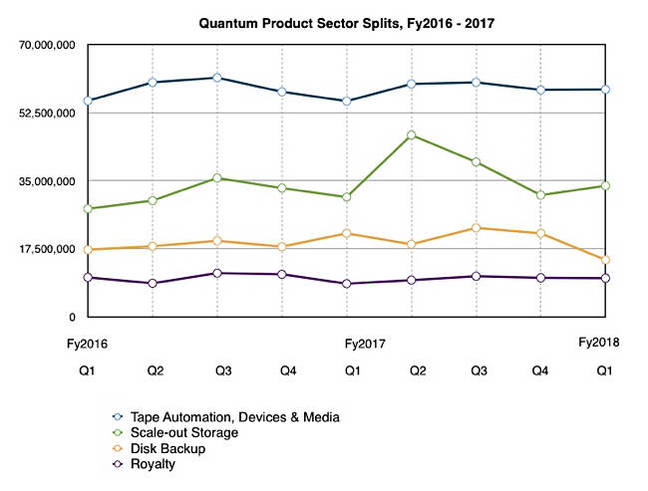 Quantum revenue segment splits to Q1 fy2918
Disk backup (DXi) revenues are falling, tape automation, device and media have remained flattish for eight quarters, and scale-out storage, the StorNext product set, hasn't exhibited a sustained high growth rate, being only 21.2 per cent higher than it was two years ago; a growth rate of 2.7 per cent a quarter.
Quantum has failed to build any product set revenue stream greater than tape after many years of trying. The combined disk backup and scale-out storage revenues are $54m while the tape product set's is $58.4m. At this rate of scale-out storage growth, it will be 2020 before it passes the tape revenues. These tape-based revenues are proving remarkably resilient.
After activist investor involvement, Quantum's board has some new directors and CEO Jon Gacek no longer has a seat.
About the results, he said: "We continued to build on our momentum over the past year, growing total revenue year-over-year and generating non-GAAP net profit for the fifth consecutive quarter. Although the total revenue increase was slight, branded revenue grew 3 per cent. Other revenue highlights included year-over-year growth in scale-out tiered storage of 10 per cent and another strong quarter for branded tape automation, devices and media sales.
"As we look forward to the rest of fiscal 2018, we continue to be excited about the opportunity to grow total revenue, driven by expected scale-out tiered storage growth of at least 20 per cent for the year."
He mentioned the new board's work. "Our newly constituted board of directors has launched a number of strategic initiatives and is working closely with the management team to implement various work streams, with the goal of improving long-term growth, recurring revenue and profitability.
"As part of this work, we are in the process of engaging a top-tier consulting firm which we expect will help the company to identify and deliver improvements in the operating characteristics of the business over the next six to 12 months, including accretive contributions to non-GAAP earnings."
There will be quarterly updates on the board's company operation tuning progress. We might imagine the new board's initiatives could also involve thinking about a new CEO as well as Quantum's strategic direction.
A new enterprise data management software layer is growing and absorbing data protection. The board may ask itself if Quantum's StorNext product set is too narrowly focussed in the data management market.
Next quarter Quantum expects its revenues to be between $120m and $125m. Total revenue for the full fiscal 2018 is hoped to be between $515m and $525m, representing continuing growth from two years ago. ®