Email and data archiver Mimecast reported a year-on-year increase in revenues of 40 per cent for Q1 2018.
Revenues for the quarter were $58.2m compared to $41.7m a year ago and $52.4m in the previous quarter. There was a GAAP net loss of $1.9m, which contrasts with the small $244,000 profit recorded a year ago but is better than the $2.6m net loss in the prior quarter.
A chart of these quarterly results shows an accelerating revenue growth curve and decreasing losses: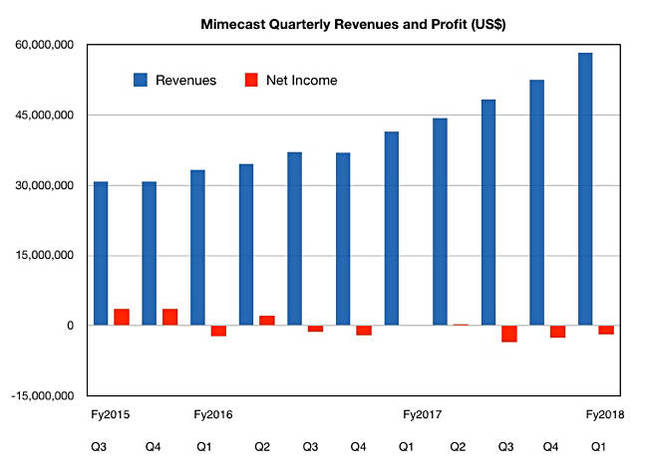 See revenues soar.
Mimecast said it added 900 new customers in the quarter, taking its total worldwide to 27,300.
CFO Peter Campbell said: "Continued strong retention and upsell as well as sales to new customers have helped us deliver another strong quarter. We are pleased with our performance to date as we drive both top and bottom line growth."
CEO Peter Bauer added: "Notable in our first quarter was the evolving threat landscape. We responded with Sync and Recover, a service to enable fast recovery in the event omnipresent attackers are successful in penetrating an organisation."
Looking ahead Mimecast thinks second-quarter revenues will be between $59.7m and $60.3m; another satisfying rise. The full-year revenue guidance is between $246.8m and $252.1m. Last year's was $186.6m, a 33 per cent increase at the mid-point. Looking cloudwards and dealing with ransomware seems to be two good things for Mimecast. ®