Bobbing around the Sargasso Sea of storage news this week we see cast-off sandals, bits of plastic, seaweed... oh, what's that?! A lifeboat? No, just some Flash Memory Summit jetsam. Let's dive in and see what we have.
Attala Systems
Attala Systems and Microsemi Corporation say they are developing the industry's first fully automated and composable, scale-out NVMe-over-fabrics platform compliant with the DMTF Redfish and SNIA Swordfish specification. It uses Attala's FPGA-based adaptable storage fabric and Microsemi's Switchtec PCIe storage switches, integrated programmable processor and enclosure management software. They claim the resulting platform is dynamically responsive to changes in customer environments without the significant operational expense (OpEx) demands historically required to manage such a platform.
Attala Systems is an early-stage technology company focused on the design and development of a new generation of storage and networking infrastructure based on the use of FPGAs and cloud-focused self-learning orchestration and provisioning software.
Microsemi is a supplier of value-add PCIe products including the scalable, low power, high-reliability PFX family of PCIe Gen3 fanout switches, the programmable PSX family of PCIe Gen3 storage switches, and the low power, multi-protocol, adaptive EQNOX family of signal conditioners with FlexEQ equalization technology supporting PCIe Gen3 and PCIe Gen2.
Datos IO
This startup wants us to know it has been recognised as a Sample Vendor in two Gartner reports, "Hype Cycle for Storage Technologies, 2017" and "Hype Cycle for Cloud Security, 2017". Very good.
It also tells us Maxwell Health, a cloud-based SaaS platform providing HR and benefits technology for the creating and managing of employee plans, has deployed Datos IO's RecoverX platform for backup and recovery of its microservices-based platform deployed on multiple MongoDB databases.
Both the HR SaaS offering and the Mongo databases are deployed on AWS.
Maxwell Health was able to replace its previous homegrown setup of snapshots and scripts with Datos IO RecoverX as a fully-automated backup and recovery platform for the databases. It achieved a recovery SLA of less than 4 hours and delivered, Datos IO says, massive operational cost savings.
DataDirect Networks
DDN is partnering with Gatan, a manufacturer of instrumentation and software for the operation and performance of electron microscopes, to deliver products for microscopy research environments and workflows.
The two say advances in cameras for in-situ and cryo-electron microscopy have led to data rates exceeding 10GB/sec. DDN's storage supports reliable, fast instrument data ingest as well as analysis, archive, collaboration, publication and data protection.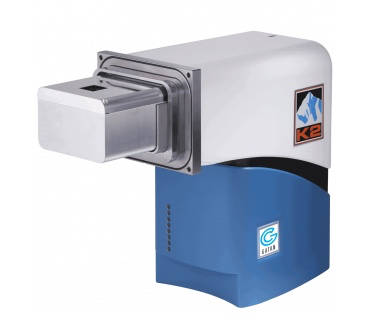 Gatan K2 direct detection camera
A combined DDN/Gatan product allows simultaneous ingest and egress of high-rate microscopy data.
Imanis Data
Imanis Data, formerly Talena announced the availability of the fastest backup and recovery platform on the market, Imanis Data 3.0. The product can recover huge data sets such as Cassandra, Couchbase, MongoDB and Hadoop at a granular level 5-10x faster than any alternative in the market.
We're told it also enables early detection of ransomware attacks and proactively identifies accidental data loss, reducing downtime to minutes and hours from days and weeks.
Imanis Data CEO Nitin Donde said: "We created Imanis Data 3.0 with machine learning built-in, giving companies the scale, speed and power to effectively manage modern data platforms."
The company says the product is cloud-ready backup and recovery software with built-in machine intelligence to handle massive data sets – terabytes, petabytes and beyond. It offers extreme scale, rapid recovery, machine learning and smart storage optimisation.
Flash Memory Summit 2017
AIC released its OB127-LX 1U 36-Bay Intel Purley server with 36 x 16TB Samsung Next Generation Small Form Factor (NGSFF) PCIe NVMe SSD hot-swap drives to provide a 576TB all-NVMe Flash storage array. It has dual Xeon SP E5-2600v5 CPUs, 24 DDR4 memory slots and a total of 300 Gbit/s Ethernet to deliver 10 million IOPS from NVMe SSD and 8 million IOPS over 300 Gbit/s Ethernet.
Attala Systems won the best-of-show award for its NNVMe storage systems, NVMe over Fabric I/O adapters, and software for managing flash storage systems.
Cavium showcased products such as FC-NVMe on Gen 6 Fibre Channel, and NVMe over Fabrics concurrently over RoCE and iWARP on Cavium FastlinQ 45000/41000 Series Ethernet NICs.
Datera demoed a system using Samsung's Z-SSDs, the ones faster than ordinary flash. Its system had a per-node performance of more than 400,000 IOPS at less than 100 µs latency.
E8 Storage took home the "Best of Show" award for the Most Innovative Flash Memory Enterprise Business Application: its E8-D24 NVMe Flash Array.
The Gen-Z Consortium showed the world's first Gen-Z multi-vendor technology demon, connecting compute, memory, and IO devices. It used FPGA-based Gen-Z adapters connecting compute nodes to memory pools through a Gen-Z switch, creating a fabric connecting multiple server vendors and a variety of memory vendors. The Gen-Z Consortium has doubled its member base since inception and now includes more than 40 companies.
Supermicro showcased an NVME server with 32 x 16TB "ruler" form factor SSDs in its 1U chassis, half a petabyte, and plans to support 32TB rulers in the near future.
Cloud storage software startup WekaIO and Intel demonstrated a native NVMe-over-Fabrics system using Intel ruler-format SSDs and running WekaIO's Matrix scalew-out filesystem software. It scales past 1PB of storage and 3 million IOPS in a 1U appliance.
Overland-Tandberg
Sphere 3D's Overland-Tandberg unit refreshed its SnapServer product line with additional support for all-flash array and hybrid array deployments.
The SnapServer Flash and Hybrid Array offerings allow all-flash and hybrid flash-disk variants. The hybrid array allows for the creation of separate volumes, one with flash and the other with disks, and the assignation of volumes for workflows with different performance requirements; the flash volume to a transactional high IOPS workload and the disk volume to a regular file share workload.
SnapServer Flash and Hybrid Array is available this month with support for varying capacities. It is backed by OverlandCare for 24x7x365 technical support.
Solarflare
Although this is Flash Memory Summit news, it's worth a few paragraphs to itself because it talks about a new NVMe-over-fabrics idea – NVMe over TCP.
Neural network developer Solarflare demonstrated the world's first NVMe over fabric based on TCP, along with Samsung Semiconductor Inc. (3D V-NAND NVMe SSDs) and Supermicro at FMS 2017. It said TCP promises to open the market for NVMe over fabrics by leveraging the native Ethernet transport, without requiring the deployment of network protocols such as data centre bridging (DCB), iWARP or RoCE.
The demo used Solarflare XtremeScale NICs supporting Universal Kernel Bypass (UKB), a suite of kernel bypass applications for accelerating application performance. "Onload" is a UKB application proven in the electronic trading industry. DPDK and NVMe are the two newest UKB apps available for accelerating NFV and storage server traffic.
Solarflare says NVMe over TCP uses Ethernet to provide IT organisations with the same high bandwidth, low-latency performance as iWARP and RoCE, but over a familiar transport deployed in 90 per cent of the 100 million Ethernet ports shipped into their data centres each year.
Synology
Synology introduced its DS418j, the successor to the DS416j, a budget-friendly 4-bay NAS, targeted at home and individual users. It comes equipped with:
Dual core 1.4 GHz CPU
CPU-RTU 1293 64-bit
DDR4 1GB RAM
USB 3.0 x2 ports
DiskStation Manager (DSM) NAS OD
Max Ras single volume size 40TB
It delivers encrypted file transfer performance at over 112MB/sec reading and 87MB/sec writing under a RAID 5 configuration in a Windows environment.
The DS418j product is power efficient, being equipped with adjustable front LED indicators, allowing users to precisely control and schedule the brightness in four levels. In addition, it consumes only 21.22 watts in full operation and as little as 8.97 watts in HDD hibernation.
The DS418j's recommended UK retail price is £236.36 ex-VAT and €260 ex-taxes.
People
Code42 appointed Richard Agnew as VP for UK, Ireland, and Northern Europe. It says the appointment is a strategic one and forms a fundamental part of its regional growth strategy. Agnew will look to dramatically accelerate the growth of new customer acquisition in the region, and lead Code42 into new sectors and markets.
Richard Agnew's career so far includes running regional teams for Veeam, NetApp and Dell. He's a cyclist in his spare time so let's hope for Code42's sake he doesn't get on his bike too soon. ®