How many pages does it take to list Nutanix's prices? One hundred? Maybe too few. One thousand – sounds about right. Ten thousand? Don't be ridiculous. Forty-six thousand, seven-hundred and sixty-three? Well, actually …
Yes, really – 46,763 pages are needed for Nutanix to list all its prices (or more precisely: 46,763 pages for PEPPM, a US public-sector technology purchasing program, to list Nutanix's prices.)
You can check out this 46,763-page product bible here [PDF] – but be warned, it's a not-inconsiderable 125.1MB.
Its length is a result of taking all the various Nutanix products and pricing them by different configurations of Xeon processor, memory, storage, network adapter, and so forth.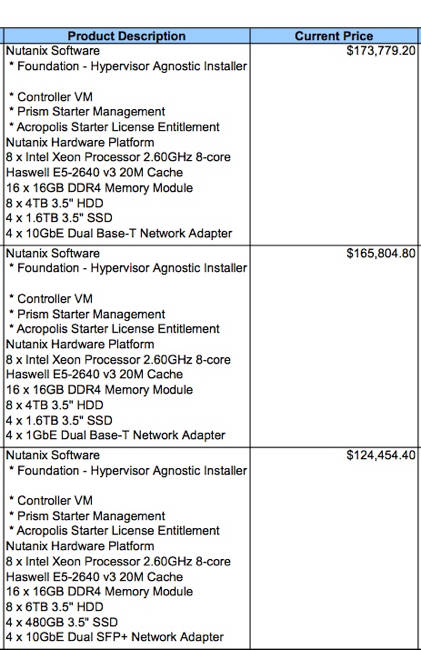 Nutanix price list extract
We asked Nutanixers about its size, and we'll update when they get back to us.
Has any single person looked at every one of these 46,763 pages? At 10 seconds a page, it would take 16.24 eight-hour days of non-stop reading, more than three working weeks. This is an incredible document that's effectively digital-only. We can't imagine it ever being printed.
Is this an extreme case? Do other companies have much smaller price lists or is Nutanix the tip of a price list iceberg? What is the biggest one you have ever come across? ®