Atomic bonds: Gigabyte, Supermicro fire out boosted Atom CPU range
Denverton systems, servers and motherboards
---
Gigabyte and Supermicro are bringing out Atom C3000-powered systems, servers and motherboards.
These little Atoms have 2 to 16 cores, to 128GB of memory, low power consumption – as little as 8.5 watts – four 10Gbit/s Ethernet ports, up to 20Gbps of compression/encryption throughput, and a virtual chip capability – VT-d partitioning tech with I/Os restricted to particular partitions.
Intel says they have up to 2.5 times more performance than the previous Atom CPU generation.
Gigabyte's MA10-ST0 motherboard uses the top-end C3958 Atom and is for cold storage and network edge use. Gigabyte says the 20 x High Speed I/O lanes from the CPU provide support for up to 16 x HDDs or 8 x HDDs with one PCIe x8 slot. This is in addition to dual USB 2.0 ports, and 2x both 10G SFP+ and 1G LAN ports.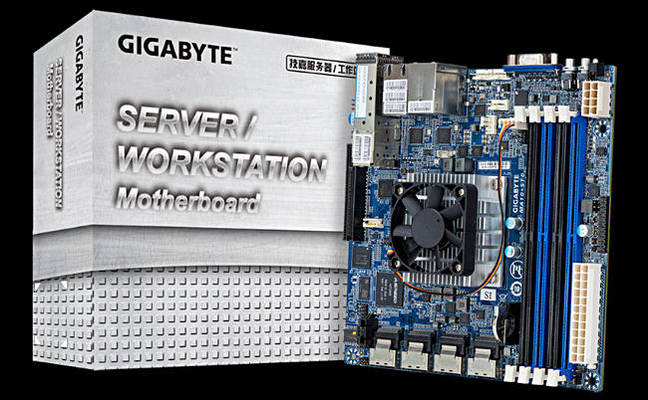 Gigabyte MA10-ST0 Atom C3000 motherboard
Supermicro's C3000 kit is also for network edge but also for embedded appliances and what it calls intelligent data centres; think low-power servers, storage appliances and web hosting app servers. They are integrated with Intel's QuickAssist technology (QAT) for network security appliances.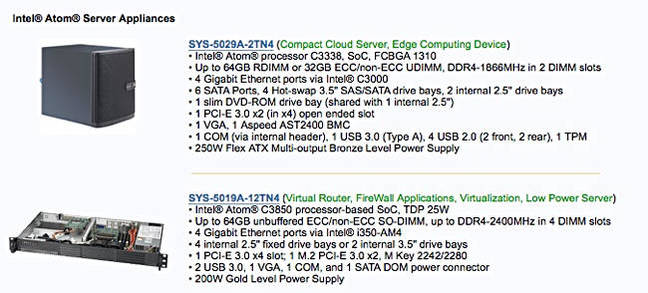 Sample Supermicro Atom C3000 outline product specs
Unlike Gigabyte, the A2 series motherboards and servers use the full range of C3000 core count models. Supermicro is also shipping 3U systems with 12 nodes using either 8- or 16-core C3000s. More info here. ®