Datrium claims its split-provisioning DVX array is 'tomorrow calling'
And it wants its super-scaling, newfangled tech back
Datrium is providing separate scaling of CPU power and storage capacity in its disaggregated converged storage arrays.
These DVX arrays feature controller functionality running in accessing servers – compute nodes – which link to 24-slot drive JBODs – disk-based data nodes.
The compute nodes run application software making this a sort of hyper-converged infrastructure appliance system, but one with, up to now, a single shared storage enclosure.
Datrium's DVX 3.0 software now features split provisioning and multiple data nodes. It provides scaling from 1-128 compute nodes and 1-10 data nodes, or up to 1.7PB of capacity, in a single composeable pool.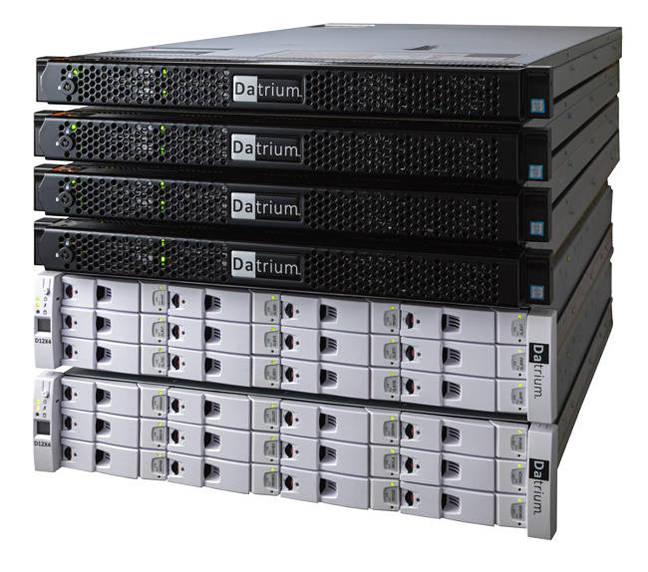 Datrium DVX compute and data nodes
Compute nodes run all workloads in local commodity flash for high performance and low latency. Persistent data is written to network-attached, capacity-optimised data nodes. The compute nodes are stateless and Datrium declares "any number of them can go down for service without affecting data availability".
Let's enjoy a little flicker of pedantry and ask, "What if all of them fail?"
With the maximum 128 compute nodes the system features:
200GB/sec read bandwidth
18 million input/output operations per second (IOPS)
8GB/sec write throughput
The 1.7PB of effective capacity
It says the 18 million IOPS is an order of magnitude higher than Dell EMC's XtremIO, and good for read-intensive apps like SQL Server or VDI boot storms.
Datrium claims this split provisioning makes its kit better suited to enterprise use because competing hyperconverged infrastructure appliances (HCIA) are limited to just to two or three simultaneous server failures before users experience a data outage. In practice, it says, citing Gartner*, HCIA clusters are mostly made up up 8-16 nodes and rackscale deployments use multiple clusters.
CEO and co-founder Brian Biles gave out a rousing canned quote: "Split Provisioning enables an order of magnitude more application bandwidth than most all-flash arrays, much simpler rackscale consolidation than HCI, and better secondary storage than either. This is tomorrow calling."
So if you're reading this tomorrow, you're already a day late. ®
* Gartner: Key Differences Between Nutanix, VxRail and SimpliVity HCIS Appliances | 26 April 2017