HP Inc vows: We're not walking away from Continuum
And no, neither is Microsoft, thanks very much
---
Analysis While Windows roadmaps purportedly leaked to a blog last week appear to have a big hole in them where mobile should be, HP Inc tells us it has been assured by Redmond there are no plans to drop Continuum.
HP is the sole major mobile vendor committed to the Windows Mobile Edition of Windows 10 and bet big on Continuum, the multimode "use-your-phone-as-a-PC" feature on which some of HP's ambitions rest.
El Reg was impressed by HP's plans to build an ecosystem around the multi-mode capabilities of the HP Elite x3 phone, which doubles up as a PC replacement. (Or tries to.) Launching in over 50 markets, the ecosystem includes a streaming apps service HP Workplace to fill in the app gap, and even a "lap dock".
HP pitched it at field workers and verticals. The only thing letting Inc-ers down was the quality of the software from Microsoft. Spring came and went without the expected improvements to Continuum.
Unauthorised briefings last week suggest the Windows Mobile branch of Windows 10 is now an orphan.
"There is no Redstone 3 or Redstone 4 development of Windows 10 Mobile happening internally. There's simply nothing to skip ahead to. The only Windows 10 Mobile development ongoing now is in the feature2 branch, which, as we've already established, is still Redstone 2," wrote Zac Bowden at Windows Central.
Importantly, however, Bowden claimed that new APIs in Redstone 3 and 4 are being backported, meaning apps will continue to work on the final, current cut of Windows 10 Mobile, Redstone 2.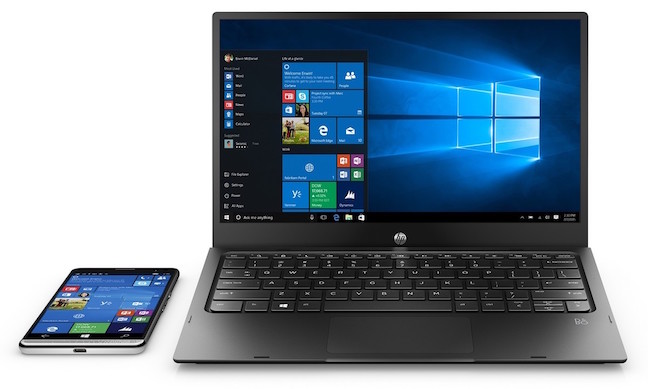 HP Elite x3 (left) and Lapdock (right)
Haven't we been here before? Ah yes, Apollo
"This should give Windows 10 Mobile an extra push of life through the next year or so," he concluded.
This is similar to the promise made when Microsoft undertook a major platform shift from Windows Phone 7.5 to Windows 8, Apollo. The latter dispensed with the Windows CE kernel that had underpinned all its previous mobile efforts, including WP, in favour of the more capable Windows NT kernel. Users ultimately saw little difference and backward-compatibility for apps was impressively maintained. However, there was a major consequence and it severely impacted Microsoft's main phone OEM at the time – Nokia.
Nokia's decision to adopt Windows Phone drove other OEMs out of the market. "Windows Phone 7 Series" had launched with support from Samsung, Dell, LG and HTC – but all bar HTC fell by the wayside. As David Wood recounted in his book Smartphones and beyond (2014), the platform shift consumed enormous resources at Microsoft that Nokia hoped would be deployed on improvements.
When Nokia met Windows Phone
Nokia had very publicly signed up to Windows Phone in February 2011, creating an "Osborne Effect": sales of its existing Symbian smartphones fell off a cliff.
However, Nokia expected the slick but immature Microsoft platform to rapidly gain new features to catch up with Android and iOS. Instead, Microsoft worked hard to essentially stand still. The platform shift to the NT kernel meant that users who had just bought a swanky new Nokia 900 were left high and dry: they couldn't upgrade their devices to Windows Phone 8.
It meant Nokia could choose between selling new products which would almost immediately become orphaned, or sell nothing at all throughout 2012. In the end it released one orphan device, and waited for Apollo to be ready. A broad portfolio of new devices only began to roll out in early 2013, but by then, Android had cemented its dominance.
Microsoft's promises to keep Windows 7.5 users up to date with a subset of the WP8 feature set were honoured more in the breach than in the observance. The awkwardly named Windows 7.8 eventually trickled out the following year.
But beyond?
Enterprise customers tend to plan slowly and for the long term. Although HP Inc's Elite X3 was announced 18 months ago, with its Snapdragon 820 chip, it's still a beast of a performer, so should not be obsolete any time soon.
If you're an HP Inc Enterprise customer, let us know what you think. ®