10 minutes of silence storms iTunes charts thanks to awful Apple UI
Blank audio a handy workaround to in-car annoyance
A song that consists entirely of ten minutes of silence has cracked the top 50 on Apple's iTunes charts.
The smash-hit, "A a a a Very Good Song" by New York-based reporter Samir Mezrahi, is in fact a rather clever trick to get around one of the more annoying bugs in the way iTunes syncs up with cars via Bluetooth. Drivers and passengers have found that once an iPhone is paired with and connects to the car's entertainment system, it will play songs automatically, usually the first alphabetical title in the handset's library.
To counter that, Mezrahi created and published an audio file that consisted entirely of ten minutes of silence and then gave it the "A a a a" title so it will automatically become the first song in most libraries. Thus, when someone gets into their car and the phone connects to the dashboard and begins automatically playing music, you get silence and about ten minutes to turn it off or pick whatever track you really want.
For what it's worth, iFans are not alone. Owners of Android phones have made similar complaints, and the problem is not limited to one make or model of car – however, it's iTunes with the 10 minutes of silence in its charts, so boom, here's your Apple story.
hey I released a blank song that will play 1st so that *one* song won't play every time u plug ur phone into ur car https://t.co/FL83YUOOcz

— #1 samir (@samir) August 9, 2017
While there are some other albeit less obvious ways to solve the auto-play problem – such as turning off the auto-play option on your car's entertainment system or disabling CarPlay on the iPhone – the addition of a silent track is an easy and, it seems, particularly popular way to solve the problem.
In fact, the tune has become so popular that by mid-day Wednesday it had cracked the top 50 on the iTunes most-downloaded list, and is right now number 41 on the list. Last week, the song had climbed as high as the 30s.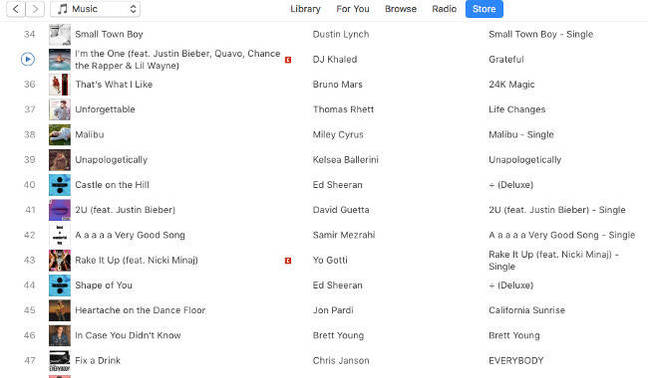 Silence ... One to play to the grandkids
No word on whether manufacturers will wake up and fix this annoying issue before the tune can crack the top 25. Also, kudos to Mezrahi for charging 99 cents a download. Ker-ching! ®