NetApp has managed to go back to what it used to do do reliably: churn out revenue and profit increases as its customer base lapped up new kit.
First quarter fiscal 2018 revenues of $1.33bn were 10 per cent up on the year and produced profits of $136m, 112.5 per cent up on a year ago.
Traditional seasonality came into play with the prior quarter (Q4 fy 2017) having $1.48bn in revenues and $190m in profits. The quarter's revenue number beat NetApp's mid-point guidance of 1.32bn.
All-flash array revenues comprised about half of NetApp's array revenues. It said its all-flash array annualized net revenue run rate grew 95 per cent year-over-year to $1.5bn. Revenue from strategic products (69 per cent) was $500m with $223m (31 per cent) coming from mature products. A year ago the two numbers were $411m and $249m and CEO George Kurian said strategic product revenues had grown 22 per cent year-on-year.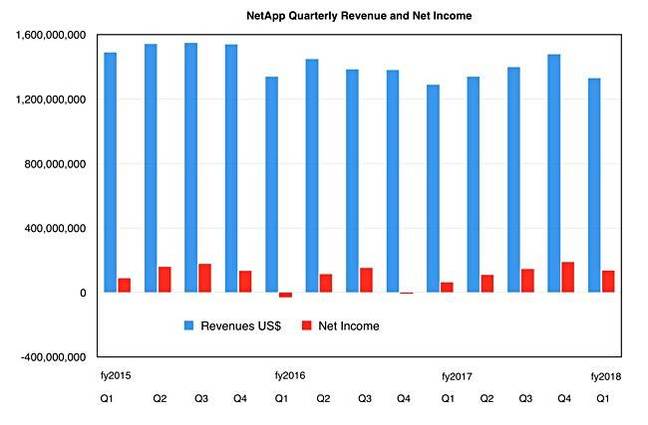 NetApp quarterly revenues and GAAP net income to Q1 fy 2018.
Strategic products encompass all-flash arrays, converged infrastructure, and the hybrid cloud.
CFO Ron Pasek said in the earnings call: "This was a third consecutive quarter of year-over-year product revenue growth, driven by our successful pivot to the growth areas of the market."
Captain George Kurian roundly declared: "We are building on a strong foundation and are, without question, the best positioned and the best executing company in the industry." He's expecting the company to deliver "sustained and profitable growth".
He said he has three priorities:
Focusing on the high growth areas of the market, as well as addressing new customers and new buying centres at existing customers,
Increase profitability,
Maintain a focus on capital allocation, balancing shareholder returns with investment in the business for long-term growth.
All-flash pivot beginnings
The move to all-flash arrays is at an early stage in terms of base penetration - less than 10 per cent - so NetApp can hope to sell lots more all-flash FAS, EF and SolidFire arrays to its customers. Kurian said: "We've gained share in the SAN market which has been the predominant location for all flash storage. We feel very, very good about our position in the all flash NAS market. ... we see the market for NAS transition as well, we have substantial room to grow."
A questioner said SolidFire array revenues were about 2 per cent of NetApp's revenues and asked what was being done to grow that number. Kurian didn't deny the number or provide a new one, saying: "SolidFire has been integrated into NetApp go-to-market organization and into the product group. We feel good about the integration so far."
Captain George Kurian was ready with the nautical quips, adding: "You'll see us bring a SolidFire base hyperconverged solution to market later this calendar year. So, overall, steady as we go."
Steady as we go is what George Kurian is about.
He discussed NVMe and storage-class memory briefly, saying: "Our approach allows our customers to non-disruptively integrate these advancements into their ONTAP and SolidFire data management architectures."
A slightly gloomier note was struck by Pasek talking about the combination of software maintenance and hardware maintenance, and other services revenues of $602m being down 5 per cent year-over-year. He attributed it to previous price cuts, renewal execution issues in the previous fiscal year and several years of product revenue declines.
He explained: "We had several years before Q3 of last year of product revenue declines, we have turned that around; that should help in the second half of this year. And we did have some service execution issues in this back half of fiscal year 2017."
But: "We expect the year-over-year headwind for services revenue to lessen in the next several quarters and return to growth in the beginning of the next fiscal year."
Asked about competition, Kurian said: "Both HP and Dell have major holes in their portfolio for the evolution of the all-flash array market. And clearly, we are demonstrating massive differentiation in terms of performance and execution in the converged infrastructure market which is frankly their home turf.
"None of these guys have a clear coherent hybrid cloud storage [offering.] ... they have their own execution challenges to get over, but clearly we feel that we've got a really solid lead against them and they're going to have to come catch us, which is going to take them heck of a long time."
As a reminder Dell-EMC is reckoned to be the revenue leader in the all-flash array market as well as the combined hyper-converged and converged infrastructure market.
Next quarter's revenues are expected to be between $1.31bn and $1.46bn – $1.385bn at the mid-point. It was $1.34bn a year ago. So ... "steady as we go". ®