So, Nokia. What makes you think the world wants your phones?
HMD chiefs explain their cunning comeback plan
---
Interview For over 20 years The Register has covered the rise and fall of Nokia phones. The story took a new turn this week with the arrival of a flagship, the first for three years, from the brand's custodians HMD. We spoke to the top executives behind the venture about their plans.
Strictly speaking, this Nokia flagship comes from an entirely new entity, HMD. The old Nokia, which licensed the brand to the company created to sell Nokia phones again, isn't even an investor. However, it is an active supporting partner – the new Nokia 8 takes pride of place on its homepage. HMD handles portfolio management, industrial design, and sales and marketing.
A flagship had been anticipated since May last year, when HMD Global stepped blinking into the sunlight. So far to date its three models have been low and mid-tier (the budget Nokia 3 starts at £129 SIM-free).
"We have a big job to become relevant and stay relevant," HMD president Florian Seiche told us, but it had a huge advantage over much of the competition in a saturated, cut-throat marketplace.
"The market has moved on so much. There are so many entrants, but the Nokia brand has that trust, that aura, to it," says Seiche. The president is acting chief after the surprise departure of Arto Nummela last month. Seiche built up HTC in Europe in the Noughties, and joined Nokia for the final 18 months of the Elop years as head of EMEA.
I wondered why with the brand resonating most strongly with over-35s, the company was chasing fickle millennials so hard. The front-facing self camera sensor is as good as the main colour sensor on the rear, giving the phone "Dual Sight" capability. It can livestream to Facebook in this split-screen mode, as social media scrolls by. This is not a situation that very many well-adjusted over-40s would ever find themselves in, is it?
"The older generations like to feel like millennials at heart," says Pekka Rantala, CMO, who has the job of reviving the brand and worked for Nokia from 1994 to 2011, ending up as its head of marketing. "The phones resonate well with older generations – we're not excluding them."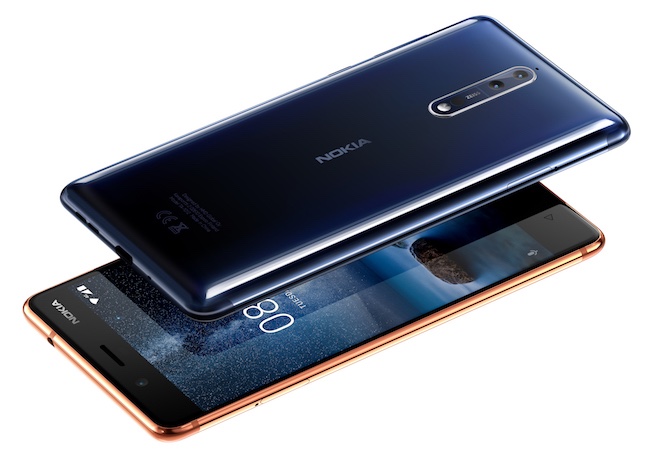 The Nokia 8
So far most of the attention lavished on the "New Nokia Phones" has been for its remake of the 3310, a retro 2G phone. This tells us nothing about the prospects for Nokia-branded 'Droids, but HMD is undaunted.
"Perhaps our assumption was that we'll have a tough job to turn ourselves from an under-the-radar brand. But all of them are aware of us. Some are neutral but they all feel for the brand. Even if they've never had a Nokia," says Rantala.
"We are not planning to go on a nostalgia trip. We haven't been campaigning too much yet. Everything is moving out quite quickly and fast. Now with the Nokia 8 we can."
The new Nokia's biggest competition comes from aggressive Chinese models, particularly from Huawei, and the "Shenzhen generics" given a Western brand.
Huawei has no signs of giving the Nokia phone team an easy ride. The recently launched Honor 9 cannibalises most of this year's "flagship" technology (OIS 20MP dual camera, 6GB RAM, Kirin 960) and pushes it out for £379.
But there's nothing like Nokia, HMD insists.
"With respect many people coming from that part of the world are working on a trademark level. They don't have a brand equity we can leverage. We think that combining the product approach and brand we can provide something the others can't," Rantala argues.
HMD will provide support not associated with Chinese manufacturers: zero day and monthly patches for the Nokia phones, for example.
In the past Nokia was associated with some eye-catching technology. Some fanbois were disappointed that here Nokia hasn't even use Nokia's launcher – it's as close to stock as can be.
"Lots of people are expecting things Nokia used to have in the past. With the design we're definitely bringing some of that. The phone is designed largely in London. Nokia 3,5, and 6 customers are definitely feeling that. Almost in darkness people can guess the Nokia 5 is a Nokia," Rantala told us.
"Nokia are partners, but it's so much more than a licence," says Seiche. "With OZO Audio the technology is coming from Nokia."
But not even a lightweight Nokia launcher?
"I expected those coments to come about creating your own skin, but they didn't," Rantala tell us.
The old Nokia is back in the consumer electronics game with its Withings purchase – analogue watches with a bit of smart (notifications and activity) but a vastly superior month-long battery life to so-called "smartwatches". Recently these were all rebranded "Nokia". This has possibilities for Rantala.
"I hope that after a while the perception of the brand will be wider and digital health will contribute to that innovation. We don't mind if Nokia is doing things there. It might be good to combine with a Nokia smartphone!"
The Nokia 8 ships in the first week of September. We'll soon find out how well it can turn curiosity into cash. ®