Handyman-finding UK app Bizzby appears to have sent a number of people an unsolicited email containing the full name and address of one of its subscribers.
Bizzby managed to send the details of "Reuben," including his name and home address, to an as-yet unidentified number of people in its email database.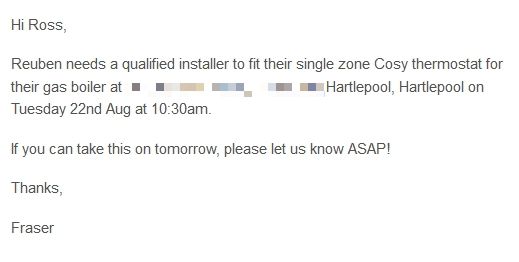 The email sent to an unknown number of users
Reg reader Ross McKillop was one of the people who received Reuben's full details. He told us: "My only connection to Bizzby is to have registered in the past as potential *customer* of their service, never as a supplier."
He added: "I have never used Bizzby, and unsubscribed from their marketing over a year ago. The last email I received was marketing in August 2016."
Others posted their ire at Bizzby on Twitter:
Uhh @BIZZBY I hope Reuben isn't a real person. Otherwise you just sent me all his contact info. Also, I can't do this. pic.twitter.com/lryGZotIQf

— Jessica Branch (@jesst42) August 21, 2017
Got an email from @BIZZBY asking if I want to fit a thermostat in Hartlepool for someone called Reuben. Never wanted to do anything less.

— John (@JM_Underwood) August 21, 2017
Two years ago, Bizzby claimed to have received $10m in venture capital funding and to have acquired 40,000 users within three months. Techcrunch named its chief exec as one Rohan Sinclair Luvaglio and said the company was based – where else? – in London's achingly trendy Shoreditch area.
The company was tweeting earlier this afternoon, blaming "an emailing error which has caused some details to be sent to a section of our customers" and apologising for the "inconvenience."
We have asked Bizzby for comment, as well as the Information Commissioner's Office, and will update this article if they reply. ®