HPE memory options rising by double digits... from today
Meanwhile, DRAM makers toasting record sales hauls
HPE is hiking server memory prices by up to 20 per cent from today, according to communications with the channel, seen by us.
The background is that the industry is recovering from a global DRAM shortage and consequently the component has become more expensive.
In an email about the changes sent to trade customers, HPE stated: "On Monday, August 21, HPE will raise the list prices of older and low volume memory SKUs by approximately 10 per cent to 20 per cent."
The following memory will be impacted:
DDR4 2133MHz memory (used on Gen 9 Haswell Processor Servers) – 10 per cent increase
DDR3 Memory (Used on Gen 8 Servers) – 15 to 19 per cent increase
UDIMMs and Standard Memory (Used on Gen 9 10/100 series Servers) – 10 to 19 per cent increase
In the mail HPE reassures its channel about its competitiveness:
Regarding the competition, these are SKUs used on older and low volume servers. Dell no longer publicly sells DDR4 133MHz speed memory nor DDR3 memory. Therefore, this action will not impact our competitiveness in the market.
It's interesting that HPE seems only concerned about Dell with other server suppliers, like Cisco, Lenovo, Supermicro, etc, not mentioned.
The US vendor also said: "At this time we are not raising the list price of DDR4 2400MHz (Gen 9 Broadwell) and DDR4 2666MHz (Gen 10) memory. However, costs from HPE suppliers are continuing to rise on these products and there may still be a need to raise list prices for these products in the future. Below are the details of the products being changed."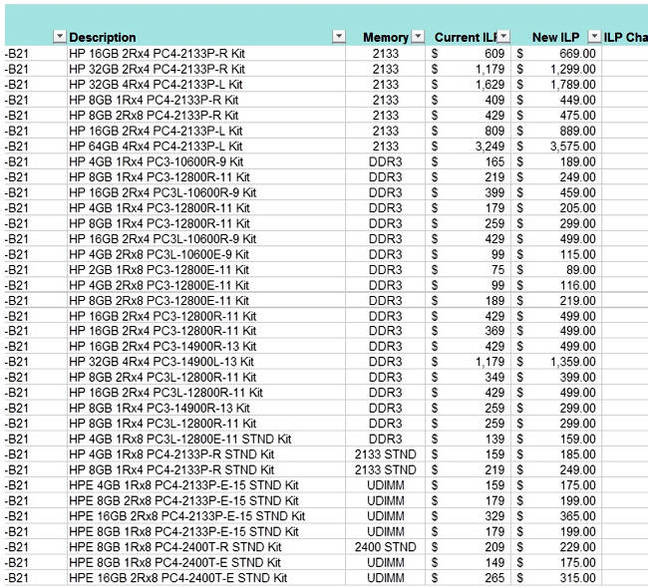 HPE August 2017 DRAM pricing changes
A spokesman told The Reg: "HPE, like any other international company, adjusts prices based on a number of market factors. After careful consideration, we may decide to make adjustments to our pricing."
Research by DRAMeXchange analysts indicated the global average sales prices (ASPs) of PC and server DRAM products rose by more than 10 per cent sequentially in the second quarter.
Avril Wu, research manager of DRAMeXchange, said: "Suppliers do not appear to have plans to expand their production capacities in a significant scale between now and the end of the year."
DRAM makers have certainly benefited from the shortages and subsequent price hikes, reporting record takes in Q1 and Q2. ®