Intel stuffs extra cores into latest mobile Series U Core i5 and i7 chips
Hello? Yes, I want a fondleslab that does things like a workstation, please
---
Intel has wheeled out its 8th Generation Core processors, a refresh of its Core i5 and i7 chips, and their base specs wouldn't look out of place in a desktop PC circa 2012.
Cutting through the verbiage in this morning's announcement from Chipzilla, we learn that the mobile-focused 8th Generation Core i7 processors (the i7-8650U and i7-8550U) boast a base clock frequency of 1.9GHz and 1.8GHz respectively, with the i5s powering through at a rather asthmatic 1.7GHz and 1.6GHz.
At least, this seems asthmatic compared against desktop chips, until you re-read it. These are quad-core mobile chips, keeping up with the sort of speeds we saw from desktops five years ago. Nevertheless, some were surprised to see clock rate nerfed in comparison with the previous iteration of these mobe chips; the slowest of the old U-Series i5s clocked in at 2.2GHz, while the slowest of the i7-Us managed a respectable 2.4GHz.
Both new chips can be overclocked to 4.2GHz and 3.6GHz respectively, however, and feature Intel's usual hyper-threading technology, thus appearing as eight logical cores to your machine.
Intel is very keen to tell world+dog that these "new and improved" Core i5 and i7 chips will give users an "up to 40 per cent" increase in performance over previous models. In particular, the new Core i5 processor is said to give "up to" (there's that phrase again) double productivity performance and a 1.9x boost in web performance.
"Indeed, beyond the amazing technology advancements, one of the great things about the 8th Gen Intel Core processor lineup is the scalability," said Intel chip chap Gregory Bryant in a canned quote. "The wide range of options opens the door for endless opportunities for our partners and the entire ecosystem."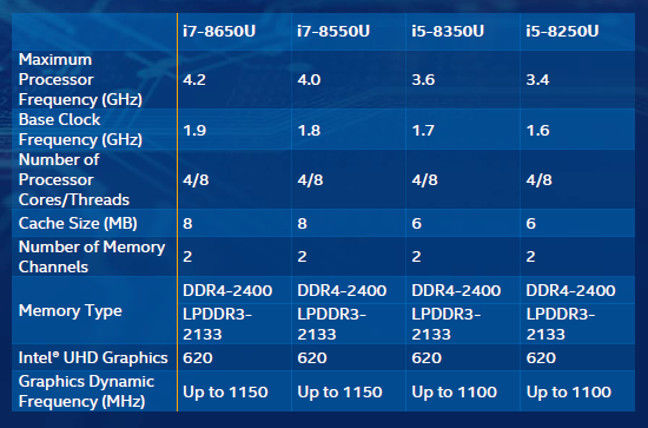 Intel U-series 8th generation Core i5 and i7 spec sheet
Key to the new mobile-focused chip offering is a pitch at video editors, boasting how the new chips can render 4K video much faster than previous technologies. Rendering a 4K video supposedly took three minutes instead of 45 minutes, with editing in Adobe Lightroom being "28 per cent faster" than with a previous generation chip. The marketing guff doesn't actually say what the test file size was so these claims should probably be taken with a pinch of salt.
Earlier this year it emerged that Intel's Skylake and Kaby Lake chippery had a hyper-threading bug, while in May PC gamers (and their rigs) became incandescent when they discovered that their i7-7700 CPUs were running at temperatures close to boiling point, despite not having been overclocked. ®