Tegile arrays tire of SAS backplane, cosy up to hunky newcomer NVMe
It's all NVMe-me-me nowadays
Tegile is moving on from SAS backplanes and has developed an N-Series array product line with NVMe flash drives.
This product is said to be capable of delivering up to 3 million IOPS with consistent 200 microsecond latency. Tegile says that, with the N-Series, businesses can consolidate transaction processing, analytics, databases, virtualization, and file services onto a single platform and accelerate enterprise applications tenfold.
Tegile calls this a unified NVMe system because it handles both block and file data.
CEO Rohit Kshetrapalsaid: "With the introduction of NVMe to the market, the next major battle in the enterprise storage market will be fought in the realm of persistent memory storage."
Think of the IntelliFlash N-Series as having started with a T4000 series array base, with its dual controllers connected across PCIe, and each linked to a SAS 3 backplane connecting them to the flash or disk drives in the system.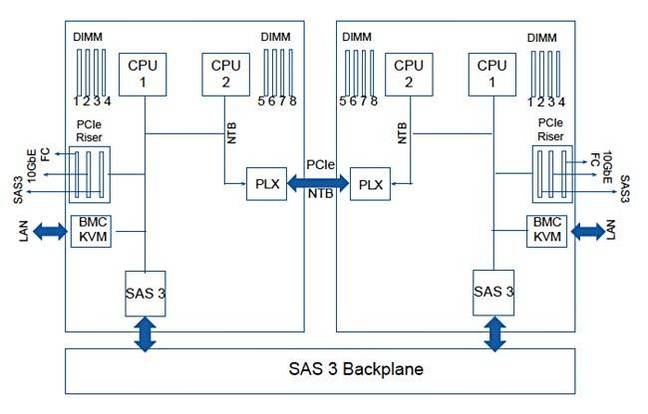 T-Series controller and SAS backplane diagram
The SAS backplane is replaced by a PCIe bus and NVMe flash drives are used.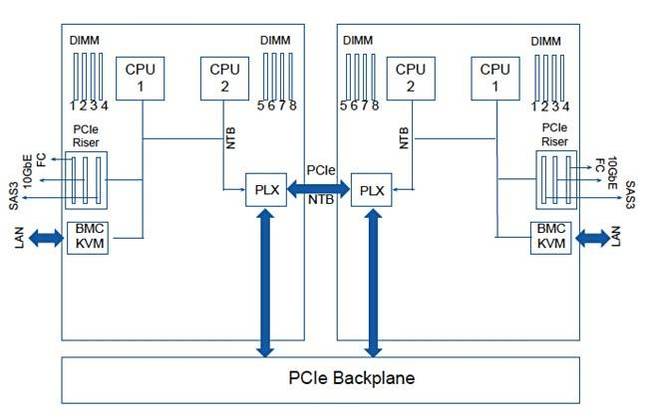 N-Series controller and PCIe backplane diagram
There are two N-Series arrays, the N5200 and N5800, both with a 2U form factor.
Tegile says there are 28 cores per controller, with each having 224GB of DRAM and 16GB NVDIMM (flash and SRAM). There is a PCIe3 x8 NTB link connecting the controllers with onboard PCIE to hook up the drives. External connectivity comes through 40 and 10GbitE and 8/16Gbit/s Fibre Channel.

N5200 drive capacities are 960GB, 1.92TB, 3.84TB and 7.68TB with raw capacity ranging from 23 to 184TB and effective capacity, because of data reduction, of 86-691TB.
The N5800's drive capacities are 800GB, 1.6TB, 3.2TB and 6.4TB with the raw capacity range being 19-154TB and the effective capacity range being 72-576TB.
Tegile is planning to use NVMe over Fabrics (NVeF) internally to link its array controllers and drive enclosures, and externally to the outside world of accessing servers and their applications.

Tegile N Series array
Who is the competition? Chief marketing officer Narayan Venkat and marketing VP Rob Commins identified Pure Storage as the main one, with NetApp later when it offers NVMe. There are also those NVMe fast boxers such as E8, Excelero, and others. What will make for successful survivors?
Venkat said: "It will come down to how efficiently we can do data management at speed and scale."
The Tegile IntelliFlash N-series array is generally available now through Tegile Systems' global channel partner network. ®