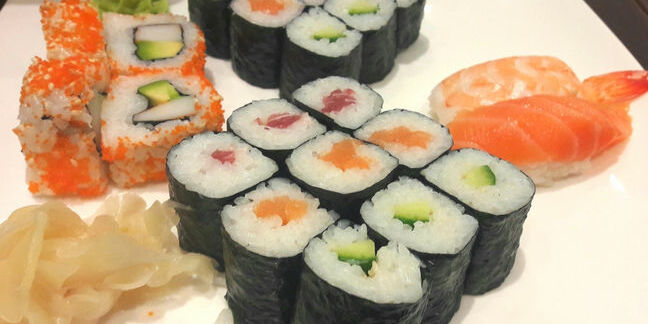 We've got a few storage news sushi snacks to start off your week. Get your chopsticks out and lift up each of these little beauties to get a taste of who's doing what in the land of the data-baiters, virtualizer commercializers and the cloud crowd.
Code42
Data protection supplier Code42 has partnered with cloud-based e-discovery software Zapproved LLC to produce CloudPreserve for Code42 and Legal Hold Pro.
Legal Hold Pro is Zapproved's product which automates legal holds and data preservation requests. Customers use Code42's endpoint data protection software to back up employee data to a secure on-premises or cloud location and then Legal Hold Pro can be used to wall off part of it behind a legal hold barrier. That data is preserved for litigation and e-discovery purposes.
Corporate legal departments can select computers protected by Code42 as an additional preservation source within the Legal Hold Pro interface. Businesses have the ability to apply "in-place" preservation holds on custodian computer data directly from Legal Hold Pro.
The two say identified files on those computers can be collected every minute without any manual collection processes and without disrupting the custodian. Legal teams will have faster access to files for litigation and compliance purposes, point-in-time historical visibility to the documents, and protection from device tampering and ransomware-related file loss. Unlimited cloud storage ensures that the protected data is continually maintained and accessible.
Druva
End-point protector, file sharer and governancer (Is that a word? Ed) announced Druva Cloud Platform to provide a unified control plane for data management services across endpoint, server, and cloud application data.
This Druva Cloud Platform features time-indexed metadata, global scale-out de-duplication, auto-tiering, RESTful APIs for access and ecosystem integration, and highly elastic search and analytics capabilities.
Jaspreet Singh, co-founder and CEO of Druva, said the Druva Cloud Platform is designed to provide data protection, governance, and intelligence across the full data footprint of the enterprise — all delivered as a service. Search, deletion, recovery, compliance monitoring and more functions are applicable across the full data set.
There is no dedicated hardware and storage infrastructure to drive up total cost of ownership, and the associated software that must replicate data between systems to address discrete data challenges (eg, backup, disaster recovery, compliance, eDiscovery, analytics).
Druva says server, endpoint, cloud workload, and application data are optimised as a single, globally de-duplicated data set, and natively managed in the cloud. Companies can achieve global visibility and policy management across all their data from a single control plane.
It claims the product's storage uses heuristics and machine learning to optimize and auto-tune data protection policies, resulting in significantly shorter backup windows.
Find out more here. Druva Cloud Platform is available in Tech Preview, shipping GA in calendar Q4 in 2017.
Druva and the cloud shift
Findings of the Druva 2017 VMware Cloud Migration Survey are:
There is a major shift in the VMware market to migrate data centres to the cloud. 90 per cent of companies are aiming to migrate their workloads by 2018, with a clear preference for Amazon Web Services (47 per cent), followed by Microsoft Azure (25 per cent).
Data protection of virtual infrastructure is a key driver for cloud adoption. 82 per cent of those surveyed cited disaster recovery as a critical reason to move to the cloud. While initially the IT community was sceptical about the cloud's robust security, these perceptions are changing as professionals understand how it reduces the possibility of costly downtime and promotes productivity.
When disaster strikes: 81 per cent believe DR for VMs is a core need. More than half of the respondents (54 per cent) reported they wanted a single, central solution that would protect their data in either a multi-cloud or hybrid cloud environment. Regarding hybrid, 42 per cent will have virtual infrastructure both on-premises and in the cloud.
SaaS-based solutions to the rescue: Enterprises want a single control plane for data protection. 73 per cent of organizations feel a single control plane, offered as a service, is the preferred way to address protecting this new environment.
Many are questioning their long term loyalty to the VMware hypervisor platform in favour of cloud. 63 per cent of respondents expressed that they are considering alternate hypervisors. This figure demonstrates that there is growing desire to natively build applications in the cloud instead of replicating VMware environments on public cloud platforms.
Panzura
Panzura announced its Mobile Client which enables organizations to natively share files from the cloud to any device at any location.
It provides Enterprise File Sync and Share (EFSS) functionality so users can give employees access to the data via all iOS, Android, PC, and Mac devices.
Features include:
Mobile access to existing shares without duplicating data offsite to third-party cloud services,
Deduplication, compression, and military-grade encryption for efficient and secure file storage,
Active Directory (AD) authentication so companies retain control and maintain access to their data,
Eliminates need for third-party applications like Dropbox for unstructured data management,
Restricts sharing of files and folders to specific domains, providing full control of sharing content by public or password-protected links.
StorMagic
Hyper-converged virtual SAN storage software supplier StorMagic says its SvSAN product will form an integral part of Cisco's Secure Ops managed cybersecurity offering for OT (Operational Technology) networks, targeted to medium sized and large enterprises.
Cisco's Secure Ops Solution offering helps businesses manage cybersecurity risk and compliance requirements in industrial automation environments. Example customers include Diamond Offshore, active in, unsurprisingly, in offshore drilling and a provider of contract drilling services to the global energy industry. It is also used by a major oil and gas company to protect its ICS Network.
StorMagic says SvSAN forms one of several tightly integrated products and services brought together to form a single product that offers network monitoring and data flow.
Secure Ops' original architecture ran in its data centre and was dependent on non-HA local storage to provide the required performance and uptime. Cisco revised the architecture to include a client-side compute infrastructure. This enabled Secure Ops to provide security protection at the client site in combination with a data centre component that collects and analyses critical information.
The updated design uses SvSAN for clusters of dense rack servers for high-availability. At each client site there is a cluster of two Cisco UCS C220 M4 rack servers that communicate back to another cluster of two Cisco UCS C240 M4 rack servers in a Secure Ops data centre. The servers are virtualized using VMware and the storage is virtualized by StorMagic using internal server disks. There is no need for external storage arrays at any of the sites. SvSAN mirrors data between servers to provide the required high availability at each location.
Unitrends
Enterprise backup and business continuity supplier Unitrends says its Recovery Series backup appliances and Unitrends Backup virtual appliances have hypervisor integration for Nutanix Acropolis Hypervisor (AHV).
It helps to eliminate the VMware tax as Unitrends' CEO Paul Brady explained in a canned quote: "Our joint customers running 3rd party hypervisors on Nutanix are looking for new ways to increase the ROI of their infrastructure, and have told us Acropolis is a great way to do that by eliminating the high cost of VMware licensing. Without proper backup, data management, and enterprise cloud continuity in place, customers could never make that ROI a reality."
Unitrends will extend its core data centre backup and recovery capabilities for Nutanix to the purpose-built Unitrends Cloud which provides continuity services that fill gaps enterprises face with hyperscale clouds like Amazon Web Services (AWS), such as recovery Service Level Agreements (SLAs), failover scalability, and cost-effective compliance for DR testing and long-term retention.
We've reached the end of the sushi buffet. We hope your storage news hunger has been sated. ®
Sponsored: Practical tips for Office 365 tenant-to-tenant migration