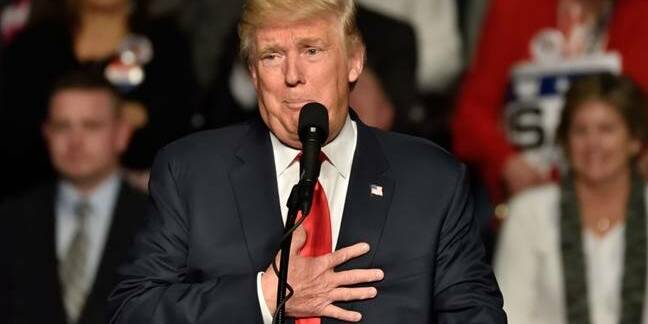 Cops in northwestern Germany have seized 5,000 ecstasy tabs fashioned in the image of Donald J Trump's head, indicating the prez continues to inspire people to seek out an alternative reality.
The haul of Methylenedioxymethamphetamine, MDMA for short, was discovered in Osnabrück, Lower Saxony, during a routine road check on Saturday evening.
Polizeiinspektion Osnabrück said the pills had a street value of €39,000, enough to keep The Donald and his best British pal Nigel Farage dancing in the gold lift for years.
German police seize thousands of ecstasy pills shaped like Donald Trump's head https://t.co/V79NPFaMdz pic.twitter.com/KTahbVtjKW

— AP Europe (@AP_Europe) August 22, 2017
The pills were transported in an Austrian van driven by a 51-year-old chap, who was accompanied by his 17-year-old son from Holland, where the drugs originated. The pair appeared in court on Sunday.
This isn't the first time Trumpster-shaped dance biscuits have showed up in Europe: just last month Trump-adorned orange and pink ecstasy was trafficked into the UK from Amsterdam. Presumably they were part of the same batch found in Germany.
Ecstasy is known to give the user a feeling of euphoria, enhanced empathy and sensations, and makes them talk a lot of shit. Sounds a bit like Donald, the last bit anyway. ®
Sponsored: How to simplify data protection on Amazon Web Services