End-point backupper Druva stuffs sack with another $80m in VC cash
Funding round lifts startup's profile and firepower
---
End-point backup and data governance starup Druva has just raked in an $80m funding round less than a year after it pulled in $52m.
Why is the VC community doubling down on Druva, with total funding now at the $200m level?
The company is growing strongly,with 300 per cent annual growth in server data protection. It has more than 4,000 enterprise customers worldwide, including businesses such as Continental, Emerson, Flex, Fujitsu and Lockheed Martin, and more tan 40PB of protected data. So we see big numbers in growth rate, total customers, and in data protected.
Druva is aware of the cloud and extending its capabilities to move into the cloud, recently announcing its Druva Cloud Platform tech preview to provide a unified control plane for data management services across endpoint, server, and cloud application data.
The $80m is called late stage growth equity funding and the round was led by Riverwood Capital, with strong participation from Sequoia Capital India, Nexus Venture Partners, Tenaya Capital, and most other existing venture investors.
The pace and amount of funding at Druva has picked up remarkably as a chart shows: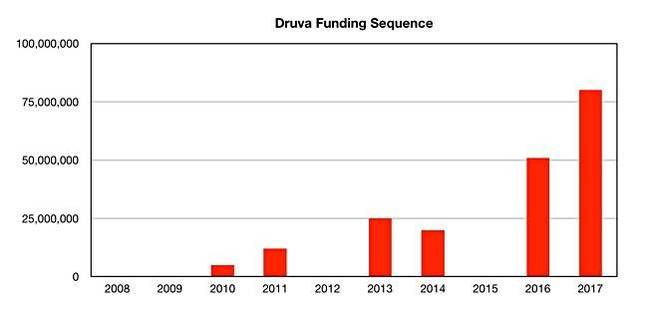 Druva funding history. It was founded in 2008.
Druva says it will use the cash to dramatically accelerate research and development and expand its go-to-market efforts worldwide.
The blue sky marketing pitch here is that it will lead the industry in redefining how enterprises protect, manage, and use their data.
Jeff Parks, the co-founder and general partner at lead investor Riverwood Capital, said: "Cloud Data Protection and Management solutions are massively disrupting the secondary storage industry. Druva delivers an as-a-service protection and management solution for all enterprise data encompassing infrastructure, endpoints, and cloud applications."
He added: "The effectiveness of Druva's technology has been lauded by a large list of customers. With high customer satisfaction, strong brand loyalty, proven technology innovation and seasoned leadership team, Druva is best positioned to drive the as-a-service transformation of enterprise data protection and management."
Druva CEO and co-founder Jaspreet Singh issued his own canned quote: "Druva's as-a-service solution eliminates costly and complex infrastructure to quickly and seamlessly protect, govern, and gain intelligence from their data when and where it's needed."
His co-founder and CTO Milind Borate went canned quoting too: "Druva's unique, patented technology including time-indexed metadata, global scale-out deduplication, instant access, auto-tiering, and advanced search and analytics are critical capabilities."
The data protection market is growing, and its size is projected to be $28bn* in 2022 for both cloud-based and on-premises servers. If Druva is able to get itself a good portion of this then it could become a formidable company indeed.
We have to shift our perception of Druva and provisionally pitch it in with the likes of Commvault, Dell EMC, Veeam and Veritas as a data protection player. We wonder if Druva's valuation in this round was high enough to make it a unicorn, at a billion dollars, and have asked. If we hear back we'll update this story. ®
* Allied Market Research, "Data Protection as a Service (DPaaS) Market," January 2017