Verizon kicks out hot new Unlimited* plans
*By 'unlimited' they mean 'significantly limited'
---
US telecom goliath Verizon has replaced its single unlimited phone plan with four new options that all throttle video and bandwidth.
The telco says that its four new plans will allow customers to get unlimited data allowances at a lower monthly cost – $75 for a single line and $40 per line in a bundle of 4 or more – so long as they don't mind certain limits on what they can get.
Specifically, each of the four plans limits the quality of streamed video. Three of the plans (go unlimited, prepaid unlimited and business unlimited) limit users to "DVD Quality" video – 480p on phones and 720p on tablets. The fourth option, beyond unlimited, ups the video quality a bit, but still limits phones to 720p and 1080p.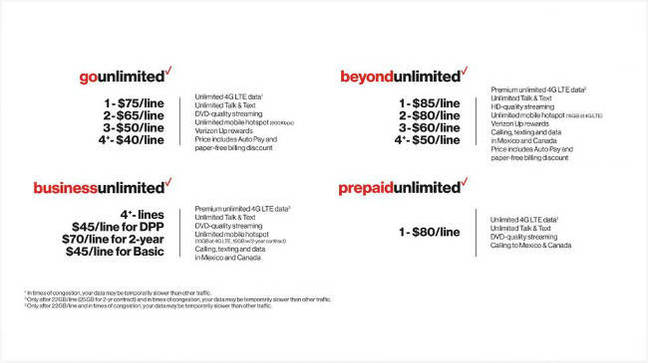 Itching for 4K video streams? Tough
While those with old unlimited plans will not be forced to move to one of the new plans, Verizon says it will apply the 720/1080p limit for those customers as well.
"We're doing this to ensure all customers have a great experience on our network since there is no significant difference in quality on a smartphone or tablet when video is shown at higher resolutions," Verizon reasons.
In addition, surpassing the 22GB mark on an unlimited plan will still result in throttled speeds, as will going over 15GB of tethered data on plans that include it.
Verizon contends the throttling policy continues to be necessary in order to keep traffic up for all customers. They have even gone so far as to produce a video explaining it:
The policy will not sit particularly well with those who were already grumbling about the restrictions Verizon and other carriers have placed on their advertised "unlimited" service plans. With a complacent FCC in place, however, there's probably not much hope of any change on the horizon. ®