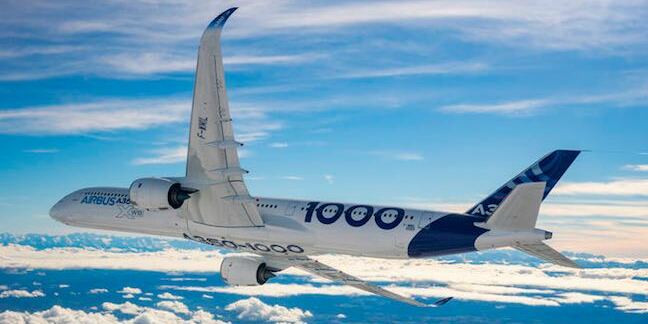 Airbus has issued an emergency patch to stop its A350 airliners from exploding.
The fix, an update to the aircraft's Master Minimum Equipment List (MMEL), adds a number of items to in-cockpit displays to prohibit affected airliners from flying.
"Recently, an overheat failure mode of the the A350 hydraulic Engine Driven Pump (EDP) has been found. Such EDP failure may cause a fast temperature rise of the hydraulic fluid," said the European Aviation Safety Agency (EASA) in an Emergency Airworthiness Directive.
The A350's hydraulic fluid cooling system is located inside its fuel tanks. If the hydraulic pump overheats and the tank inerting system (which floods the air space inside fuel tanks with less combustible gas) is inoperative, the result is a rapidly heated fuel-air mixture. This, as the EASA says, could result "in ignition of the fuel-air mixture in the affected fuel tank".
The potential "uncontrolled overheat of the hydraulic fluid" is mitigated by checking that certain equipment aboard the aircraft is operative before it leaves its parking stand. Until this directive was issued, A350s were permitted to take off while carrying certain equipment failures, such as particular valves in the hydraulic system and fuel inerting systems.
The MMEL is a set of instructions to ground dispatchers and flight crew setting out what defective equipment an aircraft can safely take off with. Some items (e.g. the pilot's reading lamp) can be safely inoperative without affecting safety; when it comes to things such as auxiliary pumps in backup systems, the situation can be less clear. Major aircraft manufacturers therefore compile MMELs as a definitive list of what failures are and are not permissible to fly with. Airlines compile their own aircraft-specific versions of MMELs, called the Minimum Equipment List.
Precisely 100 A350s have been delivered to airlines around the world, including Lufthansa, Singapore Airlines and Delta Air Lines. ®
Sponsored: Webcast: Ransomware has gone nuclear