Hitachi rack servers get VMware Cloud treatment
Plus Xeon SPification for their hyperconverged systems
---
There's some new wine in Hitachi's Unified Compute Platform of converged and hyperconverged server bottles – specifically VMware Cloud Foundation software added to its converged rack-scale (RS) product and Xeon SP processors to its hyperconverged systems.
There is no Xeon SP upgrade news for its CB2500 and CB500 blade chassis systems, with their CB520H (E5-2660 CPU) and CB520X (dual E7-8800 CPUs) blades.
The existing rack-scale system comes with two node types: a 2U single node (1 or 2 Xeon E5-2600 v3 CPUs) and a 2U four-node (dual Xeon E5-2600 v3 CPUs). Hitachi's new turnkey Unified Compute Platform RS (UCP RS) is described as a fully integrated, software-defined data centre (SDDC) rack-scale platform, based on VMware Cloud Foundation with hybrid public/private cloud use in mind.
Gartner describes VMware Cloud Foundation* as "an application-independent, common virtual data center infrastructure that can run atop an existing private data center infrastructure, a public cloud service or a combination of the two."
Customers can deploy the VMware SDDC stack or build their own using the Hitachi vSAN-ready node and VMware software.
The rack features:
4-256 UCP HC nodes (to 256 nodes across 16 racks)
2U UCP HC V210/V210F Cloud Foundation or Ready Nodes
Scale-out storage (VSP)
Cisco Nexus 9332PQ (32x40Gbit/s QSFP+) spine networking
Cisco Nexus 9372PX (48x1/10Gbit/s SFP+ & 6 x 40Gbit/s QSFP+) top of rack networking
Quanta T1048LB9 running management SW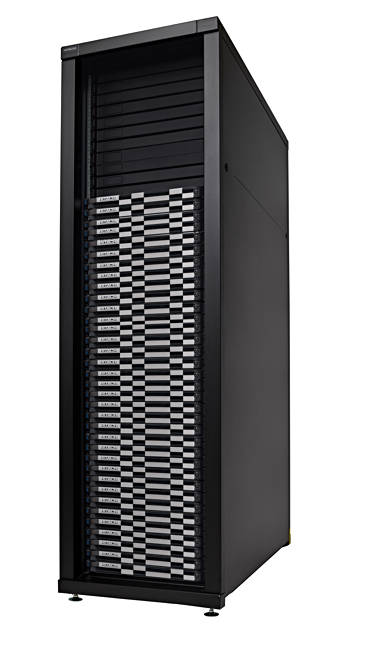 Hitachi UCP RS
The V210 is a hybrid disk/flash node and the V210F is an all-flash node. Both can use 1 or 2 E5-2699 22-core or E5-2680 v4 14-core or E5-2650 v4 12-core CPUs. The V210 can also use 1 to 2 E5-2620 v4 8-core processor and the V210F 1 to 2 E5-2650 v3 10-core processors.
Hitachi claims its updated RS uniquely automates provisioning, managing and monitoring for SDDCs.
A fully populated rack can be brought into operation in under five hours.
Find out more about UCP RS here. We expect Xeon SP processor upgrades to ripple through the UCP RS systems in the next few months.
Hitachi UCP RS products are generally available to customers and partners in all regions.
Hitachi UCP HC
Hitachi's UCP HC embraces, as do the existing HCs, hybrid disk/flash and all-flash systems.

Hitachi UCP HC product
Think of the HC products as being based on or similar to the rack-scale nodes. In the hybrid disk/flash line there are V210 2U 1-node and V240 2U 4-node systems, with the equivalent all-flash versions being the V210-F and V240-F. All of them use Xeon E5-2600 series processors.
The latest HCs feature Xeon SP processors, and support NVMe flash drives. There are five models:
V240 hybrid – 2U 4-node
V210 hybrid – 2U 1-node
V240F all-flash – 2U 4-node
V210F all-flash – 2U 1-node
V120F all-flash – 1U 1-node
The V120F supports up to 12 2.5-inch drive slots.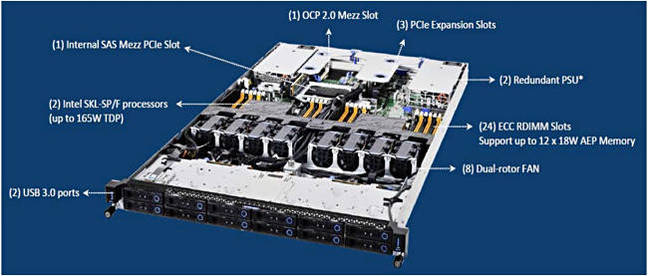 Hitachi UCP HC V120F
The all-flash vSAN storage cache can use NVMe, SAS or SATA SSDs with Intel NVMe DC P3700 or P3600 SSD as options.
For all-flash vSAN capacity storage includes Samsung PM863a SATA SSDa (3.8TB, 1.92TB and 960GB respectively) or Intel's S4500 SATA SSD.
VMware integration includes vCenter Server, vRealize Orchestrator, Operations, Log Insight and Automation. Hitachi says these systems feature less than 32 seconds of downtime [a year], multi-site business continuity, local or remote replication, non-disruptive upgrades and maintenance, and per-VM availability policy and change on the fly.
Fault domains can be created to increase availability. To protect against one rack failure you need two replicas and a witness across three failure domains. A stretched active:active vSAN cluster can be split across two data centre sites with automated failover and zero data loss.
There are both deduplication and compression for space efficiency, plus RAID-5 and RAID-6 inline erasure coding.
The UCP HC systems are on VMware's vSAN hardware compatibility list. Hitachi will say that these HC systems are the best choice for VMware shops because of the level of VMware integration – high enough for it to win a VMware partner of the year award. ®
*Market Trends: Software-Defined Infrastructure — Who Can Benefit? (Gartner, June 2017)