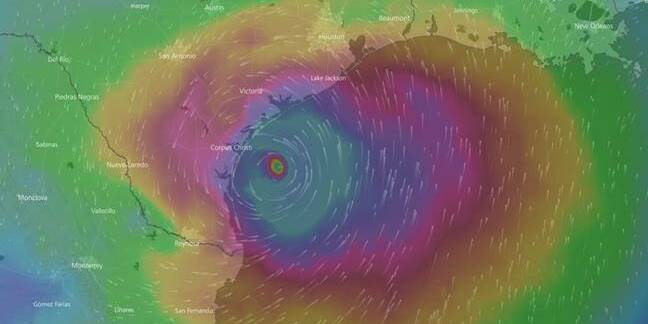 As Hurricane Harvey bears down on the Texas coast, American satellites have provided vital monitoring data to give Texans the best information about the incoming terror tempest.
The space agency has three orbital platforms providing data on the mega-storms, which has now been upgraded to a category-three hurricane, meaning wind speeds are topping 111 miles per hour. Up to 35 inches of rain are expected over the middle and upper Texas coast, and sea waves crashing onto land could top 12 feet in height.
To get better estimates of the rainfall, the Global Precipitation Mission satellite, run by NASA and the Japanese Space Agency, flew directly over the top of the hurricane – albeit 400 miles up. Its microwave imager is capable of piercing the cloud to track rain bands and give forecasters the data they needed.
NASA's Aqua satellite, orbiting around 430 miles up, is scanning the hurricane's internal weather systems. Its atmospheric infrared sounder is tracking a circle of powerful thunderstorms within the north and east of the center of the hurricane, and has found high-altitude thunderheads chilling down to -81°F (-63°C).
As for tracking the storm's progress, America's National Oceanic and Atmospheric Administration's GOES-East satellite is providing regular updates and predictions from its geosynchronous position above the East Coast of the US. It is getting the best view possible of the hurricane's progress and relaying it to disaster crews on the ground.
"On the forecast track, Harvey will make landfall on the middle Texas coast tonight or early Saturday," said NASA in a statement. "Harvey is then likely to meander near or just inland of the middle Texas coast through the weekend."
Texans are being advised to move to high ground where possible, and to stay away from coastal areas. The Federal Emergency Management Agency has a full list of advice and support services here. ®
Sponsored: How to simplify data protection on Amazon Web Services